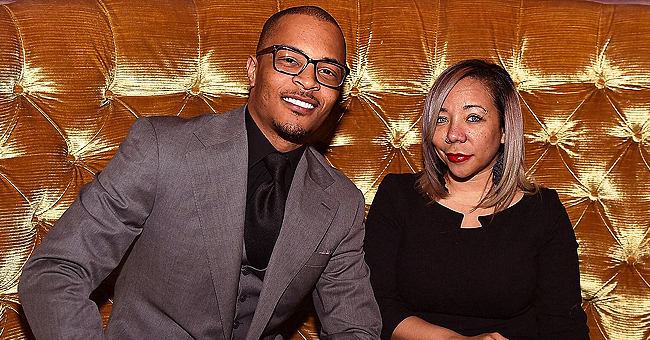 Getty Images
Tiny's Fans Think Baby Girl Heiress Looks like Dad T.I. in Photo with Singer Monica's Daughter
Tameka "Tiny" Harris recently shared a picture of her mini-me daughter Heiress hanging out with best friend Monica Brown's daughter Laiyah, but fans can't help pointing out Heiress's resemblance to her rapper dad, T.I.
Heiress has Tiny's light skin, so it's usually assumed she's the spitting image of the Xscape singer. Some social media users, however, think otherwise after seeing her latest Instagram photo.
In the snapshot shared by Tiny, 44, Monica Brown's five-year-old daughter Laiyah is all-smiles as she lifts Heiress, who is also smiling. Both girls looked like best of friends, and Tiny said as much in the caption:
"A perfect pair!! Nothing but pure love in this pic...my babies @heiressdharris & @laiyahbrown."
FANS REACT
In one of her hashtags, Tiny described the girls as "Lil Tiny [&] Lil Mo," but some fans were of a different opinion.
"I always think she's your twin. But this is def Tip's work in this pic," an Instagram user wrote.

Screenshot of fan comment | photo: Instagram/majorgirl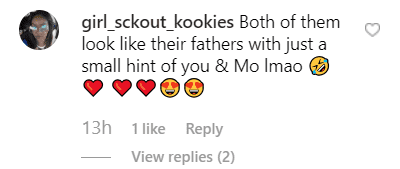 Screenshot of fan comment | Photo: Instagram/majorgirl
"[Heiress] look like her daddy on this pic," echoed another while a third noted:
"Both of them look like their fathers with just a small hint of you & Mo lmao."

Screenshot of fan comment | Photo: Instagram/majorgirl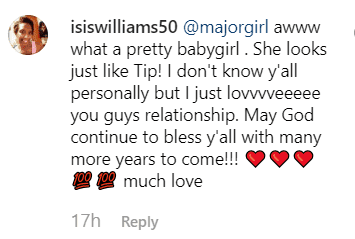 Screenshot of fan comment | Photo: Instagram/majorgirl
A FUN PLAYDATE
Heiress and Laiyah looked like they had the perfect time hanging out with each other if more pics shared to the latter's Instagram page are anything to go by.
In one snapshot, both girls were caught in the act as they giggled around, and in another, they held hands and smiled for the camera.
Monica even filmed Heiress doing a cute intro for her older friend's Instagram. "Hi. …Welcome to Laiyah's page," the adorable three-year-old said.
For the playdate, Heiress wore a yellow jumpsuit and black sneakers and had her curls pulled up in a puff. Laiyah, on the other hand, looked sporty in a Nike t-shirt and leggings paired with white sneakers.
TWO GENERATIONS OF FRIENDSHIP
It's good to see Heiress and Laiyah keeping up with a friendship that started with their mothers many years back. Monica and Tiny have been friends since their teens and continue to root for each other till this day.
Earlier this month, both singers took to Instagram to celebrate their longtime friendship. Sharing a photo of herself and Tiny posing atop a car, Monica wrote:
"Truth is, when the night falls the one call is my Lil Momma @majorgirl A day full of real ones is a day well spent."
FRIENDS & FAMILY
Tiny followed up with a similar post where she gushed: "Been Riding since teenagers & still ridin!! Love u, Mo."
Alongside friends Toya Wright and LeToya Luckett, Monica, 38, also features in T.I. and Tiny's VH1 reality series "T.I. & Tiny: Friends & Family Hustle." The show follows the lives and activities of all celebrities involved, and fans get to see more of cute kids like Laiyah and Heiress.
A few months back, Heiress scored her first acting gig after acing an audition on the first trial. "Congratulations to my lil actress @heiressdharris," Tiny reportedly raved on social media. "She went on her first audition and got what she came for. My Live Baby Doll."
T.I. and Tiny must be so proud of their little girl.
Please fill in your e-mail so we can share with you our top stories!