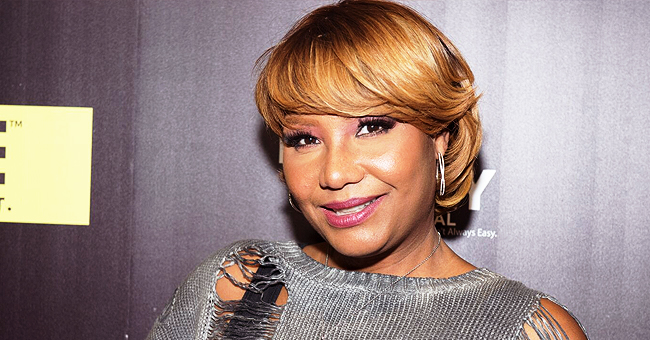 Getty Images
Traci Braxton's Grandson Is Surrounded by Great-Grandma Evelyn, Braxton Family Members in Photo

Meet Traci Braxton's adorable grandson who's well-loved by the whole Braxton clan. Traci Braxton, is an American singer, reality television personality and radio personality.
The celeb became a grand-mom last year in May when her son's girlfriend gave birth to a baby boy. Since then, the adorable little boy's photo has sprung up several times on not only his dad's Instagram page but also on Traci's.
K3, the cute boy is commonly called. The most recent photo of the well-loved bundle of joy came on August 14 when his dad, Kevin Jr, took to his Instagram page to post a family photo which featured his son surrounded by his relatives.
The Braxton household reportedly reunited to celebrate K3's birthday ceremony. The post was accompanied by a lengthy caption which left no doubt as to how much he loves his little boy:
"Sometimes when it's a negative there can be a positive outcome one of the last things me and lo talked about is having the family come out for K3 birthday and even though it was hard to continue to celebrate his birthday it was bittersweet but it was good to see everyone come together again.. I just want that same energy to be for the next generation and my little cousins #heyfriend."
The post attracted lots of positive comments as his followers noted how big K3 had gotten and also wished him a happy birthday:
"He is getting so big," a fan observed.
"Love this!! Family over everything!!" another exclaimed.
Traci, who now refers to herself as Duchess by virtue of K3's birth, said in an interview that she decided to go by the term because she now considers herself a royal.
"My sisters and I…when we were younger, we said if we ever have kids, and our kids have kids, our names would be duchess. That's royalty, that's what they call the Queens when they have grandkids. So, I'm royalty," she declared.
There's no doubt that little K3 will grow up to love his dad as fiercely as Kevin Jr loves his mom. Kevin's love for his mom was made even more apparent when he, along with his mother's niece, rose to defend her from a shady post Tamar Braxton sent her way on her birthday.
Traci celebrated her birthday on April 2. However, underneath the celebrations, there was a family dispute going on. Tamar Braxton, like other members of the Braxton household, took to social media to wish Traci a happy birthday.
However, when Tamar went further with a second post, she incurred the wrath of Traci's niece and her devoted son. Later on, Tamar took to her Instagram page to address the backlash she was receiving due to her shady comments.
In the new post, she stated that she did not mean anything by the saying "When it's really your day tho" and that she was happy to share the day with her sister. Tamar disabled the comment feature for the post, so there were no answering comments from her fans and followers.
Please fill in your e-mail so we can share with you our top stories!