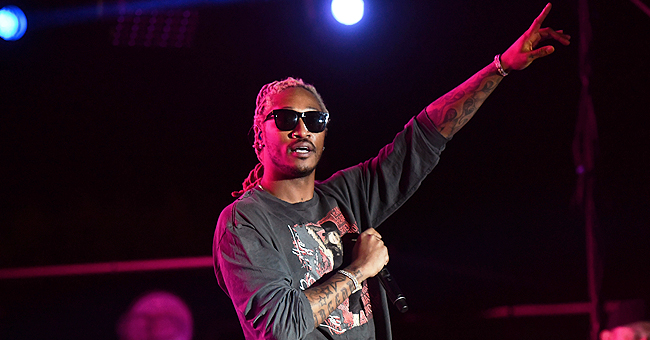 Getty Images
Future Boasts about Having 5 Wives Amid Lawsuit with Alleged Baby Mama No. 7

Future may have just proven he is one of the biggest playboys after posting his relationship status on social media: "I have 5 wives BTW. Love them all to death."
While love can mean different things to different people, to Future, it means making your partner happy, even if it deceiving her to a certain extent. The Atlanta-based recording artist recently took to social media to share his relationship status, revealing:
"I have 5 wives BTW. Love them all to death."
The "Relationship" rapper hinted this in his collaboration with Young Thug, where he dropped the line: "I'm in a relationship with all my [expletive]." He also revealed an instance where he tricked one of his girls into thinking he bought her the in-demand Popeyes chicken sandwich.
"Pulled up on bae with a chicken sandwich frm a hood spot and put it in a Popeyes bag I had n the car frm a week ago, she love me more now. Perception is everything," he posted on his Instagram story.
Future recently made headlines for being the alleged father of the child of Eliza Reign -- his supposed seventh child with a seventh girl. It is no secret that the artist is romantically involved with many women, given that he explicitly mentions it in his songs.
He also made the news after his former fiance, Ciara, broke up with her in 2014, three months after having a son, Future Jr. Last June, the "Level Up" singer spoke of her relationship with Future at an episode of "Red Table Talk."
"I grew up with my mom and dad being together. The idea of it being mommy and daddy that made baby," Ciara said. "I feel like I'm failing right now, they gon' roast me. Here they come in the comments section."
Although breaking up with Future was difficult, accepting that their relationship was no longer healthy helped her make the big decision. She admitted to being "afraid of losing myself" in a toxic relationship.
The singer later married NFL star Russell Wilson, whom she also shares a daughter with named Princess Sienna. Her relationship with Wilson was "different" in a good way, one where she felt genuine love.
Please fill in your e-mail so we can share with you our top stories!