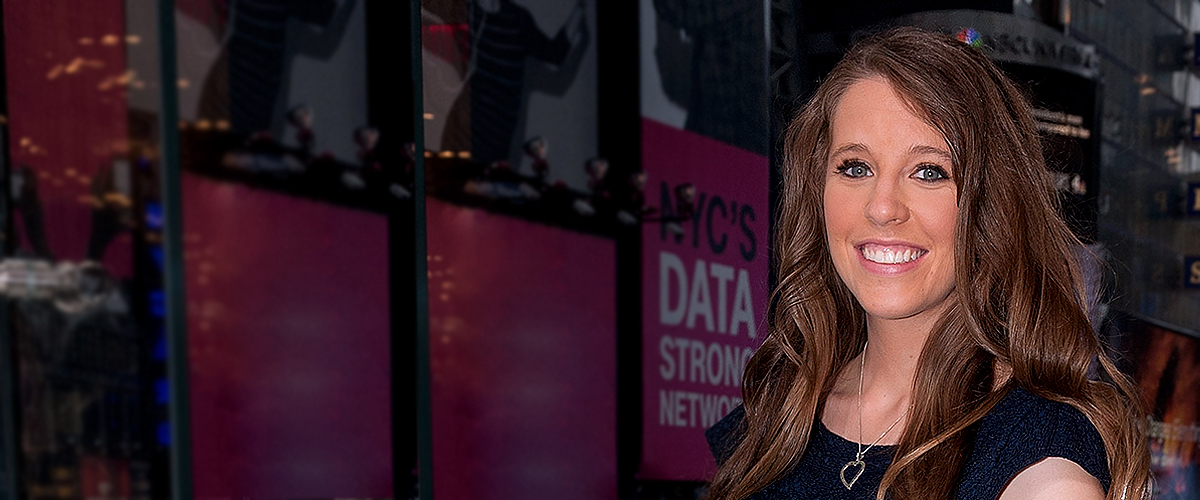 Getty Images
Jill Duggar Dillard: The Duggar Who Gets Mom-Shamed the Most
Jill Duggar, one of the 19 children that Jim Bob and Michelle Duggar have, is one of the members of the family who has been criticized the most on social media.
Apart from Josh Duggar, who has been in the eye of the storm since May 2015 when it was revealed that he sexually molested some of his sisters between 2002 and 2003, Jill is the one who has been criticized the most.
Most of the times that Jill has been humiliated on social media are related to her children. However, some people really dig into her posts to criticize her, no matter how ridiculous their reasons are.
Jill and her children at a library
The most recent time that her Instagram followers mom-shamed her for something apparently meaningless took place on August 27, when she took her two boys, Samuel and Israel, to the Rogers Public Library.
In the slideshow Jill shared, her sons were playing with other children in a ball pit, with cooking-related toys, and even looking at a small aquarium in what seemed to be an enjoyable day.
For the caption, the proud mom advised her followers to visit the library and enjoy the different events they share. "I was pleasantly surprised at how great it was!" Jill finished.
Unfortunately, some of her followers shared their negativity on the comment section, including that her post didn't show Samuel and Israel with books although they were in a library.
"Why were you surprised? Weren't you taken to the library as a child?" wondered a user.
"Libraries have tons of things like this. Has she never taken her boys to the library before????" added a second person.
"I guess you don't use libraries when you're trying to keep your children from understanding anything about the real world," pointed out another follower.
Jill "trying to make money" out of her grandma's passing
This year has been especially hard for Jill on social media. On June 11, two days after their beloved grandmother, Mary Duggar, died, Jill shared a screenshot of her most recent blog entry on Instagram.
The article was titled "A Life Well Lived: Lessons My Grandma Taught Me" and, in the caption, she urged people to read it. While some people shared their condolences, Jill's critics labeled her as "immature."
Apart from that, her followers considered that she was trying to monetize the death of her grandmother, which was considered "disgusting" by some of them.
Jill and the "Kama Sutra" post
In June, she uploaded another bunch of photos showing how she and her husband, Derrick Dillard, celebrated their fifth anniversary. One of the pics had a book titled "The Little Black Book of Kama Sutra: The Classic Guide to Lovemaking."
Given her strong religious beliefs, people got surprised by the book and quickly attacked the couple on the comment section.
The backlash was so severe that Jill had to edit the caption and point out that they were not recommending the original Kama Sutra book, as the one shown in her post was a "modern, smaller, cleaner, edited version" of it that doesn't focus on certain elements.
"We've not read the actual Kama Sutra and only promote biblical marriage (i.e. between a man and woman who are married)," Jill finished.
Jill's four-year-old son wearing a bib
In early August, she uploaded a photo on her Instagram stories showing her 4-year-old son, Israel, wearing a bib. People took to Reddit to share their repulsion about the pic, claiming that the boy was too old to wear one.
"[Israel] is way to [sic] old to be using a bib. Teach him to eat neatly and you won't have this issue," an angry user wrote.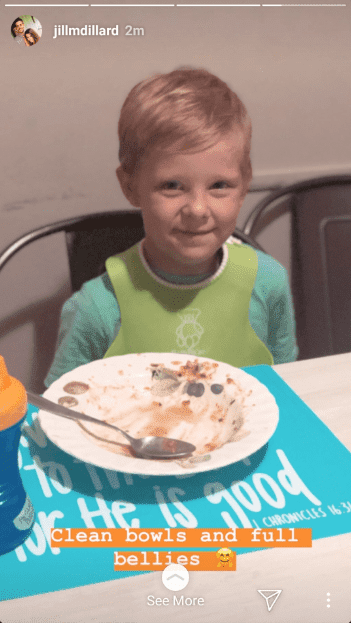 Screenshot of an Instagram story of Jill Dillard showing her son with a bib
Jill's in-laws putting together a toy
Recently, Jill shared a photo showing her in-laws putting together a toy airplane for her children in the house's backyard. Again, people criticized her and Derrick for making the children's grandparents work outdoors.
"Why exactly are you getting your in-laws to do this? They should be spending time with the grand babies while Derrick lifts a finger for a change," pointed out a follower.
Despite all the negative comments that Jill has got on social media, she knows that people will never be pleased. For that reason, she and her husband have been doing their best at raising her children while ignoring all the backlash.
Please fill in your e-mail so we can share with you our top stories!