LPBW Star Matt Roloff Brings down Remainder of Treehouse Where His Kids Played for past 23 Years
Matt Roloff is forced to remove the remaining pieces of his children's treehouse. Built 23 years ago, it holds many memories for the family. 
"Little People, Big World," star, Matt Roloff, enjoys getting his hands busy with a new project. A few weeks ago he built his grandson, Jackson Roloff, a custom made plane. 
Sadly, there is one project that none of his grandchildren, Ember and Jackson, will get to enjoy; a tree house he built for his children 23 years ago. The tree house was destroyed in a storm a year ago and for safety reasons, Matt has been forced to remove the remainder of the fallen tree. Explaining its significance, he writes:
"So today the family stood by and watched as I brought the remainder of the house down. Lots of memories watching my kids play in that house the past 23 years.. I was emotional and feeling nostalgic while taking it down."
 Sharing a picture of Jackson at the steering wheel of a crane, the proud grandfather adds:
"I'm glad Jackson was able to watch the entire process. Even tho I feel sad he will never get to play in that tree house with his cousin Ember and new cousin crew."
Matt's girlfriend, Caryn Chandler also comments on the photo. She has worked on the farm and has been a family friend for a long time, she expresses her sadness in seeing the final remnants of the tree gone.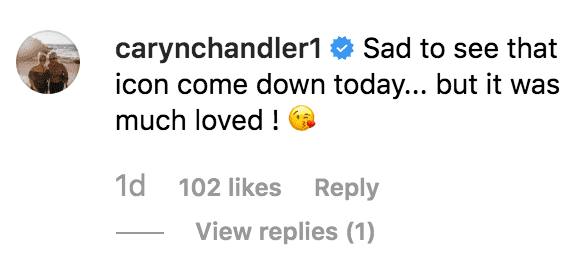 Matt's mother, Peggy Roloff, shares one of her favourite memories in the tree house saying:
"I've got good footage somewhere. I sat in the tree house with the kids talking about soon to be born Jacob."
Joining in on the special moment, Tori Roloff shares a picture of Zach and Jackson watching the tree house being torn down. She captions the moment;
"My boys in their happy place. ???Jackson has been so spoiled this week with muel rides, airplanes, and now watching tractors! This kid has no clue how blessed he truly is."
Matt better start drawing up plans for a new tree house soon. His eldest sons are each expecting their second children soon. Zach and Tori have announced that they are expecting a girl, and Audrey and Jeremy are expecting a boy.