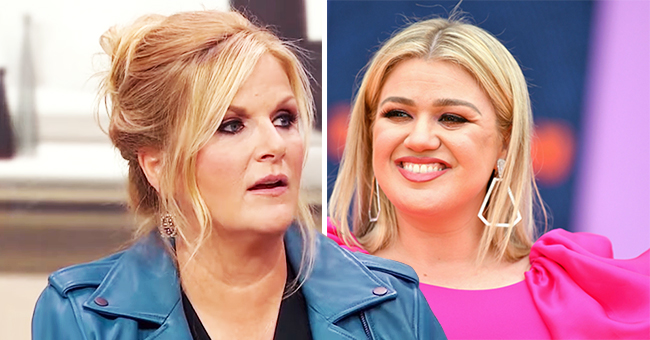 youtube.com/PeopleTV // Getty Images
Country Singer Trisha Yearwood on 'Voice' Coach Kelly Clarkson's Health Scares and New Talk Show
Country Legend Trisha Yearwood shared how she was "not surprised" that her fellow singer and "Voice" Coach Kelly Clarkson overcame her recent health scares.
Yearwood was recently in an interview with PEOPLE Now and was asked if she was surprised that Kelly Clarkson was able to push through the recent medical scares.
"No... First of all, she's real. She's going to tell you everything that's going on with her," Yearwood said. "She's also just not afraid to tell all the details. But also, she's a pro."
THE FIRST MEDICAL EPISODE
Kelly Clarkson, 37, went through a painful medical condition while hosting the Billboard Awards. She even managed to host the program with the agonizing pain she must have felt from the appendicitis.
"I just didn't want to leave people hanging," she said.
She received medical attention right after the event and underwent surgery just hours later. She made a speedy recovery and was back to work in a week.
ANOTHER MEDICAL SCARE
Kelly was back on her feet and on the sets of "The Voice" a week after her appendix was removed, unfortunately there she had another medical emergency.
"Blake [Shelton] was talking to me and all of the sudden, everything he said just went away and I had to grab his arm and I was like, 'Something is wrong.'"
Only to find out later, that a cyst in her ovaries had ruptured. "The Voice" coach claimed that this was more painful than the appendicitis. Also, two medical emergencies happening in such proximity did scare Kelly.
"It was literally a week after my surgery so I was freaking out!" she told People. Thankfully, Kelly is "totally great now."
"She's whatever it takes. She's a pro"
Trisha Yearwood also went on to share an incident when the two were out doing a Christmas special. Kelly, pregnant with her daughter at the time, was suffering from morning sickness.
Yearwood recalled how Kelly would come up on stage, perform, then go backstage "and lose her lunch," come back out and no one knew.
Yearwood added, "She's 'whatever it takes.' She's a pro."
Please fill in your e-mail so we can share with you our top stories!