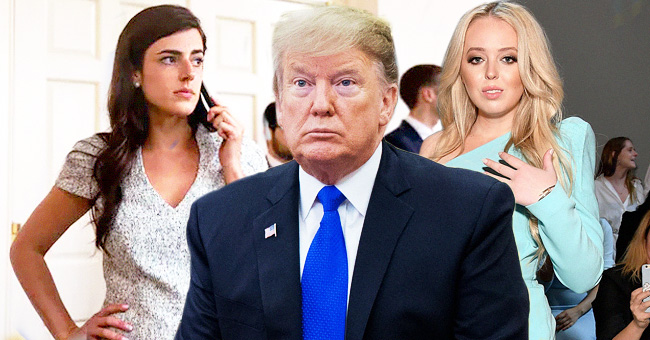 twitter.com/keithboykin + Getty Images
Madeleine Westerhout: White House Aide's Alleged Remarks on Trump Taking Pics with Daughter Tiffany

Madeleine Westerhout, President Trump's personal assistant, became a hot subject after she allegedly leaked never before known details about the First family.
CNN reports that Madeleine, who held the position of the executive assistant to Trump, has been "forced to resign."
Madeleine has shared a rather close relationship with Trump because of the nature of her job and how long she has spent with him since he resumed office.
The unfortunate reports of her resignation came on August 29 soon after news of how she told reporters some rather unsettling information about the First family.
Madeleine reportedly had a secret meeting with reporters, and the President equally came to learn about it from one of the reporters. People shares that much of Madeleine's words hinged on Trump's method of parenting his daughters and even most notably the youngest, Tiffany.
The former executive reportedly disclosed that she had a much stronger relationship with Trump than his daughters, Tiffany and Ivanka. As if that wasn't already enough, she also allegedly explained that the President couldn't pick Tiffany out of a crowd!
Conclusively, Madeleine also told reporters that Trump disliked taking pictures with Tiffany because he thought the youngster was "overweight." Although the meeting was meant to be off-record, it roused tension online as the President himself addressed the claims.
While speaking to the press, Trump explained that Madeleine had called to apologize right after the meeting. According to him, an upset Madeleine told him that she had said some things while she was drunk.
Trump also explained that she told him about being with the reporters and how everything had been "off the record." For the 73-year-old politician, however, that was not enough reason for her uncouth statements about his children.
Trump made a point that even if he understood her situation, disclosing such information wouldn't go unpunished. Admirably, Trump expressed support for Madeleine sharing that she was "a very good person" and that he "always felt she did a good job."
Via Twitter, he further shared that he had forgiven Madeleine and that "I love Tiffany, doing great!" That, apparently, didn't cover for Madeleine's position amongst the White House staff as news of her abrupt exit have surfaced.
Trump's response to the news is, however, admirable considering the already known facts about his and Marla's relationship. That ranges from the infamous knowledge that Marla destroyed Trump's first marriage to her claims of a prenuptial agreement that depicted Trump's uncaring attitude towards their daughter, Tiffany. If anything is sure to make big headlines, it's juicy information about this trio.
Please fill in your e-mail so we can share with you our top stories!