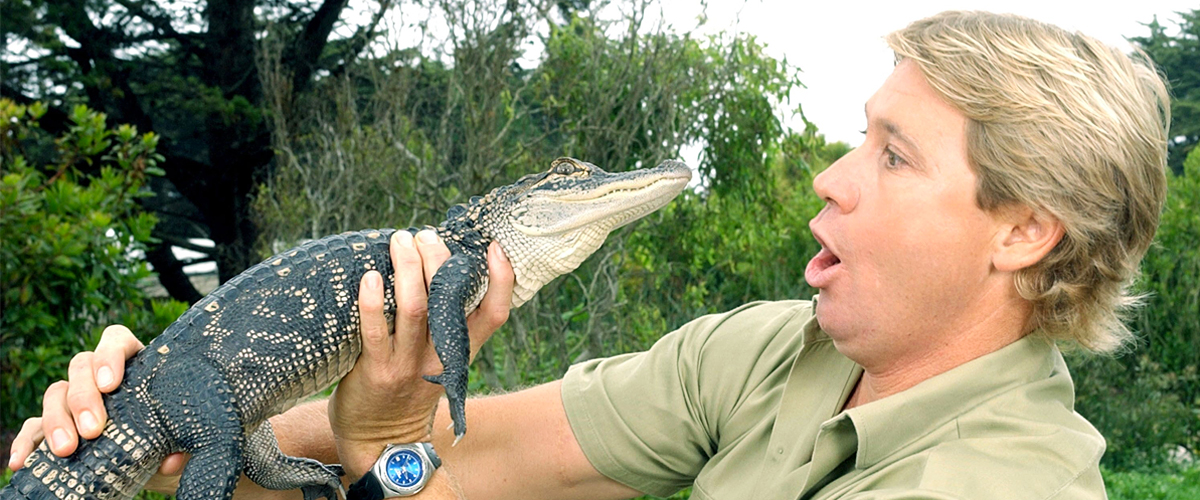 Getty images
How Steve Irwin's Son Robert Carries His 'Superhero' Dad's Legacy
Last Sunday was Father's Day in Australia. However, the son of the late crocodile hunter Steve Irwin celebrates his dad every single day. Here's how.
Robert Irwin celebrated Father's Day with the rest of Australia by sharing a photo of his father holding him when he was just a baby. The anniversary of Steve's death came just days later.
The beloved wildlife explorer died on September 4, 2006, from a short-tailed stingray attack in the Great Barrier Reef. He is survived by his wife Terri Irwin, his daughter Bindi Irwin, and his son Steve Irwin.
Tributary new show
All of Steve's family's inherited his love of animals and in October 2018, they came out with a brand new show called "Crikey! It's The Irwins"
As the new patriarch, Robert is commonly compared to his father. The 15-year-old is fully aware of the similarities he shares with his father —they look and sound incredibly alike.
He's also fully embraced his role in keeping his father's memory alive. In an interview with ET Canada, he explained that the show for him is about following Steve's footsteps.
A love of danger
The teenager is eager to learn from those people who learned from his father before the reality star's untimely death. Robert called it "a real privilege" to gain such knowledge.
The show also builds on Steve's legacy by providing viewers with close encounters of dangerous animals, just as Steve gave. However, Robert said he loves the adrenaline that comes with the risk.
Television appearances
Like his dad, Robert is not camera shy in any way. Over a year before he starred with the rest of his family on "Crikey!" he appeared on "The Tonight Show Starring Jimmy Fallon."
Even then, it was quite apparent that Robert had the same enthusiasm and charm that his father possessed. He was also quite familiar with a lot of fun animals which Fallon was lucky to meet.
The young teen's demeanor was electrifying, and his voice, attitude, and confidence were all reminiscent of his late dad. The audience especially loved how proud he was to continue Steve's legacy.
Robert has made several more appearances on the show since then. In one, he joined Fallon and guest star Kevin Hart who reacted hilariously to the animals they introduced on set.
Wildlife photography
On the small screen, Robert takes center stage as an adventurer with the rest of the cast of "Crikey!" Online, his professional photography skills are apparent in the hundreds of posts he's shared.
Though his father was not much of a photographer, the shots Robert captures have a deeper meaning than what we see on the surface. In an interview with Australian Geographic, Robert talked about his parents' influence on his work.
As an important member of the Steve Irwin Wildlife Reserve, Robert is all too familiar with the importance of conserving rare species. His proudest photographic work was a shot of the last white male rhinocerous.
Robert took out the picture when he and his team traveled to their Ol' Pejeta Conservancy in Kenya. The trip brought the importance of poaching to the fore of his mind.
Bearing in mind that his father went out to animals' territories rather than luring or trapping them in, it's clear that Robert also has his father's principles and values close to his heart.
Bindi sees it too
Robert's sister Bindi is also carrying on her father's legacy, yet she's fully aware that her brother is nearly the mirror image of their beloved dad. In an interview with Yahoo Lifestyle, she said as much.
She told the magazine:
"Robert is so much like dad — the way he talks and walks, his mannerisms. And when he feeds crocodiles, it's extraordinary, because he feeds them just like Dad used to do."
The 21-year-old recently got engaged to another animal lover, Chandler Powell, who is also part of the family's team and can be seen working at the zoo on the show.
However, in the interview, Bindi called her father their "superhero" and said they were "blessed to get to carry on in his footsteps." The family's Australian sanctuary covers 100 acres.
The Australian Zoo
According to Robert, it is "one of the biggest and best zoos in the world" and the animals are well-cared for. A big part of their goals is giving people a "one-on-one experience" with the creatures.
Robert insisted that his father "was really passionate about" spreading that connection with nature and animals. "For us, he really inspired this love of wildlife and conservation," he noted.
The show, "Crikey! It's The Irwins" premiered on Animal Planet last year in 205 countries and gained the number one spot on the network soon after. The date of season two has not yet been announced.
Please fill in your e-mail so we can share with you our top stories!