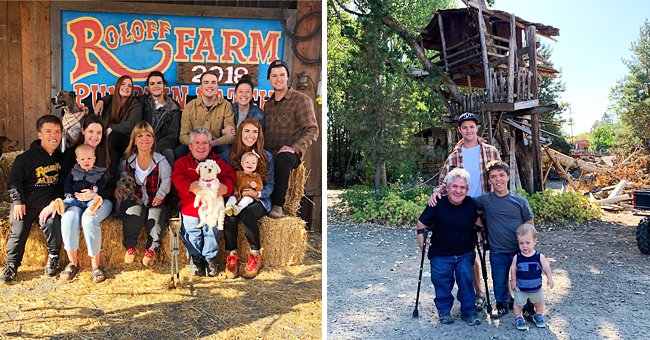 instagram.com/mattroloff
LPBW's Matt Roloff Shares Last Tree House Pic with Zach, Jeremy & Grandson Jackson before Teardown
Matt Roloff and his grown twin sons have been hard at work. The patriarch gave fans a peek at the children's treehouse right before it was pulled down.
Matt Roloff, who is best known for the famous reality show, "Little People, Big World," updated his Instagram feed a few days ago. The new post is a group picture of himself, his twin sons, Zachary and Jeremy.
Also included is Zachary's fast-growing son, Jackson who seemed to draw people's attention thanks to his grandpa's loving caption.
MATT AND HIS TWIN SONS COLLABORATE
The group of four were dressed in a relaxed manner with Matt and Zach wearing similar ensembles in dark tees and jeans while Jeremy and little Jackson opted for shorts.
To pose for the snap, the group of four huddled close together; Zachary had his arms about his father while little Jackson peeked curiously at the camera.
The main focus of this picture is, however, not the smiling group but the woodsy treehouse that stood tall behind them. The site looked like the men had been very busy at work with a yellow excavator and fallen trees visible in the background.
"The last photo of the wrecking crew while the treehouse was still standing.. photo taken right before I crawled in the Excavator and finished the job," Matt proudly shared in the caption of the picture.
The caption shifted attention to little Jackson as Matt explained how the picture would come to be a reminder for the youngster in the future.
"Jackson may not remember the Roloff treehouse ...but in 20 years. This photo will prove he was there.. but then again.. in 20 years. Who cares! Lol. He'll have a whole new game plan by then," he lovingly wrote.
Fans quickly took to the comments section to leave words of encouragement and compliments for the men. One wrote:
"What a sweet picture! Very handsome, all of you!"
"Love how you guys love each other," wrote another.
PREGNANT TORI ROLOFF LOVES ON JACKSON IN NEW INSTAGRAM POST
Much like Matt did, Jackson's mother, who is also currently pregnant, shared photos of little Jackson having fun at the world site. The adorable images all place focus on the two-year-old who appeared to be having fun joining his dad and grandpa at work.
To caption the stunning photos, Tori explained that the past week was full of fun for little Jackson who she disclosed enjoyed rides, airplanes and is "now watching tractors."
"This kid has no clue how blessed he truly is. #babyjroloff," she sweetly wrote.
Admittedly, Jackson is one lucky baby to be born into such a loving family like the Roloffs.
In other news, the famous reality star family are up for celebration as Jeremy and his wife, Audrey share that their unborn child is a boy!
There couldn't be anyone more delighted than Matt as he took to Instagram to express immense joy at the news. That's one more lucky boy!
Please fill in your e-mail so we can share with you our top stories!