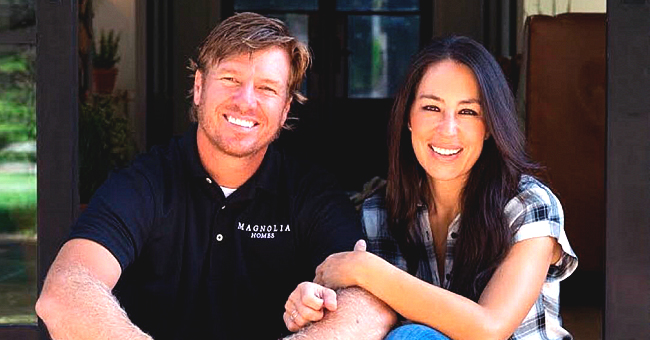 instagram.com/magnolia
'Fixer Upper' Alum Joanna Gaines Shares Photo Carrying Son Crew, Talks Magnolia's Fall Install

Crew Gaines is one cute baby! The little boy touched the hearts of his mother's followers dressed in a striped T-shirt, as she holds him in a new photo.
Chip Gaines' wife, Joanna Gaines is one gorgeous mother who looks nothing like a mum-of-five. She passed the cute gene to her son, and last child, Crew. In a new Instagram photo, the businesswoman, carried Crew on her hip, as she looked happily at a wall inscription with the words,
"There is gold in every piece of your story."
The little boy wore a striped T-shirt, blue shorts, and sandals with his beautiful mom, dressed casually in a white top, blue jeans, and comfortable slippers. She captioned it,
"My favorite part of the Fall install at Magnolia is this beautiful concrete wall and the reminder that every piece of our story matters."
Reacting to the cute snap, one of Joanna's followers wrote,
"I love this so much; you are gorgeous too."
Another wrote regarding the inscription on the wall,
"Absolutely, this line is everything."
The reality star gave birth to Crew last June, and the little boy celebrated his 1-year-birthday, not too long ago. On the special day, his mother wrote alongside never-seen pictures from the day of his birth,
" I just can't get over the fact that he is ONE and I also just really love his squishy legs."
Joanna and Chip are parents to Drake, Ella Rose, Duke, and Emma Kay, all between the ages of 14 and 9. The couple rose to fame with their show, "Fixer Upper," and are currently working on opening a coffee shop at their Magnolia Store in Waco, Texas.
In a video detailing the progress they've made, the Gaines Matriarch said they hope to have the coffee shop opened by October and November. Crew is also a part of the process, walking around the place, and in Joanna's words,
"The kids are excited, Chip and I are excited, and it's fun to finally see some real progress happening."
The reality couple also has other business ventures and strict work ethics. Interestingly, as fun and lovely as they appear with some of the people they renovated homes for, Chip once revealed he didn't like some of them very much, saying not all projects go as expected with homeowners.
The parents-of-five have also had issues selling some of their renovated homes because they are on the high side, and most people interested do not live or want to relocate to Waco. In 2018, the couple got fined $40,000 by the Environmental Protection Agency for not correctly minimizing the risk of lead paint exposure in the homes they renovated.
Despite the ups and downs, Joanna and Chip love what they do, and wouldn't trade it for anything. When they open their coffee shop, it will hopefully be as successful as their other ventures, and Crew will be there with his siblings, cheering his parents on.
Please fill in your e-mail so we can share with you our top stories!