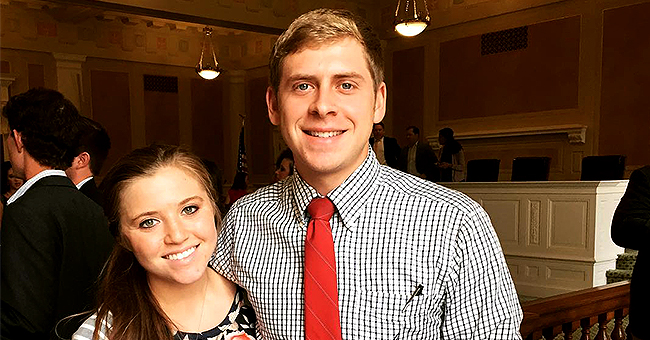 instagram.com/austinandjoyforsyth
'Counting On's Joy-Anna Duggar & Austin Forsyth's Handholding Technique Slammed after Loss of Child

Joy-Anna and Austin Forsyth have become the subject of criticism after the former took to social media to share a seemingly harmless picture of them holding hands.
The picture surfaced on Joy-Anna's Instagram feed on August 31. It features the young mother and her husband of two years sitting in a car and holding hands. The shot, however, focuses on their hands as it is zoomed in on just that.
Joy-Anna's beautifully manicured hands were tightly enclosed in Austin's. Their hands are a somewhat contrasting pair as Austin's featured calluses, bruises and stains in the picture may have been taken at or soon after his work.
Joy-Anna didn't seem to care about that as she sweetly captioned the post with romantic words from a song.
"The spaces between my fingers are right where your's fit perfectly #manlyhands #justholdmyhand #mybestfriend #AustinMartynForsyth," she wrote.
The photo quickly gained attention online, but it is not for the right reasons. The picture has amassed over 43,000 likes and hundreds of comments, but some of them are a harsh criticism of the beautiful couple.
Some nitpicky netizens observed that Joy-Anna's caption was not the right match for the picture. The argument is that logically, Austin's fingers aren't precisely between each of hers.
One observant fan, @isabelgcaldwell commented:
"But like, the space in between your fingers isn't where your spouse's are?"
"But then you're holding hands like potatoes not like french fries," said another, @godslittlefirefly alongside laughing emojis.
As if that wasn't already enough, another fan, @barb0662 boldly directed a question at Austin writing:
"Are those warts on your index finger?"
While many found these observations sully and just plain fun, a number came to the couple's defense.
"I am truly amazed at some of the questions asked," one Instagram user, @judeforeman522018 wrote.
It also became a noticeable trend that many praised Austin for being a hardworking and supportive husband. While a few others tried to explain that it was calluses and work stains that made Austin's hand look so.
If nothing else, Joy-Anna and Austin's devotion to their family is a very admirable one. They seem like the perfect young couple just raising their son, but it hasn't been all smooth for the pair.
One such was the tragic loss of their daughter when she was only 20 weeks old, but thankfully, the couple seems to have come out even stronger. They seem to have healed while raising their one son, Gideon and just recently, Joy-Anna revealed that they had been living in a camper for the past year.
Surprisingly enough, the small space is gorgeous and, in fact, left many shaken. If there is any reality star couple that fans find admirable, it is Joy-Anna and Austin Forsyth.
Please fill in your e-mail so we can share with you our top stories!