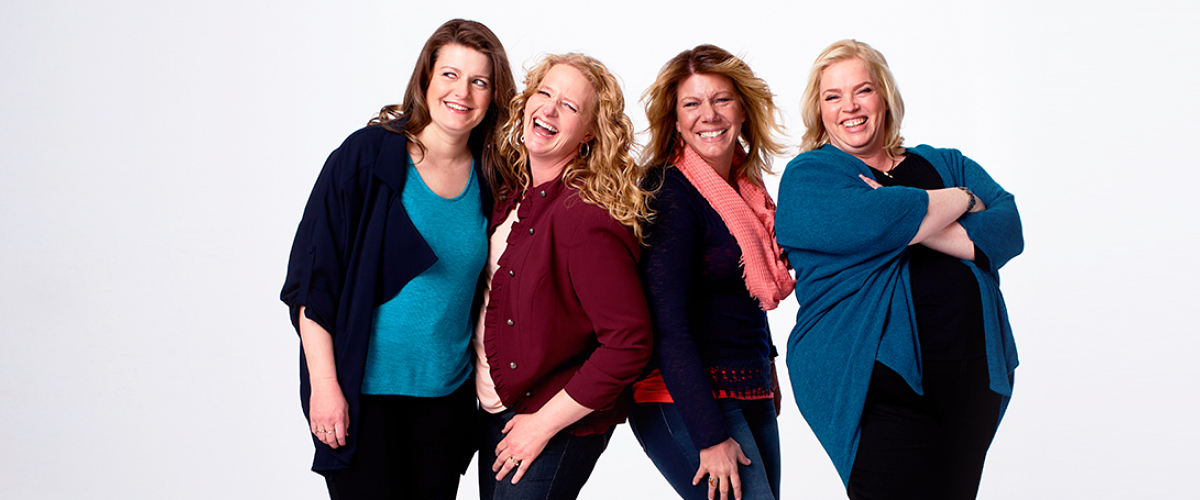 GettyImages
Meet 'Sister Wives' Janelle Brown's Six Children
"Sister Wives" star Janelle Brown shares six kids with her polyamorous husband, Kody Brown. Their eldest daughter recently welcomed her second child, while their youngest is still in high school, here are more details on the Brown children.
Janelle Brown was spiritually married to Kody Brown on January 20, 1993. He has three more wives and they have 18 children in total.
Kody is legally married to Robyn Brown but has spiritual marriages to Meri, Janelle, and Christine Brown.
From Kody's 18 kids, he shares 6 with Janelle: sons Logan Taylor, Hunter Elias, Robert Garrison, and Gabriel; and daughters Madison Rose and Savanah.
Here's a detailed look into the kids' lives.
LOGAN TAYLOR
The eldest son, Logan is 25-year-old and is the eldest child of both Kody and Janelle.
Although he grew up in Lehi, Utah, he started studying in the University of Nevada, Las Vegas in 2012, after the Brown family moved there.
Logan graduated with a Bachelor's Degree in Kinesiology and Exercise Science on May 13, 2017.
He's currently pursuing a Master of Business Administration at the University of Nevada, Las Vegas Lee Business School, and is expected to graduate this year.
Logan started dating Michelle Petty in 2015 and proposed on September 2017 on the Congress Bridge in Austin, Texas. She said yes.
Talking about the proposal to People magazine, Logan revealed that his original plan fell through so he had to improvise his proposal:
"We were on Congress Bridge in Austin, Texas, enjoying the city," he recalled."We had just finished seeing a favorite band of ours. Unfortunately, nothing in my elaborate plan had successfully gone through."
And continued:
"So, in desperation, I found the prettiest view of the Colorado river, Congress Bridge. We walked out to the middle of the bridge, and then I popped the question!"
MADISON ROSE
Madison, 23, is Kody's fourth child and Janelle's second.
She was also raised in Utah until the family moved to Las Vegas when she was 17.
There, she studied at Centennial High School and later enrolled at the Utah State University in 2015.
Madison dropped out of college after getting engaged to Caleb Brush, who is 9 years her senior.
For the proposal, Brush took Maddie on a ride on his ATV and stopped at a lookout point.
"It was cold and we were huddled in jackets and I thought he was crazy to stop," Maddie told People. Adding:
"He said to come look over here. So I walked with him to the edge. He told me he could never express how much he loved me, but he wanted to spend his life trying, and went down in one knee and pulled out a box."
The pair tied the knot on June 2016 and welcomed their first son, Axel James, in May 20, 2017.
Maddie announced her second pregnancy on January 2019 and welcomed her second child, daughter Evangalynn Kodi, on August 20.
HUNTER ELIAS
Hunter, 22, is the sixth of Kody's kids and Janelle's third.
He was 15 when his family moved to Las Vegas and graduated from the United States Air Force Preparatory School in May of 2016.
Hunter is currently enrolled in the United States Air Force Academy and is expected to graduate in 2020.
Unlike his siblings, Hunter tries to keep his private life away from the spotlight and although he has an Instagram, the account is private.
ROBERT GARRISON
Robert, 20, is Kody's eighth child and Janelle's fourth.
He graduated from Centennial High School in 2016 and enlisted in the Nevada Army National Guard on November 19, 2015.
Initially, Robert wanted to join the army but his father wanted him to complete a college degree first. So, joining the National Guard was a compromise for both.
Garrison is currently a student at the College of Southern Nevada and enjoys traveling around the world on his free time.
He also started a business selling Hawaiian t-shirts, sundresses and women swimwear online.
GABRIEL BROWN
Gabriel, 18, is Kody's ninth child and Janelle's fifth.
He just graduated from Centennial High School and is now off to college at the Northen Arizona University.
Last June, Janelle explained that Gabriel was cramming two classes over the summer to finish high school this fall and start at NAU right away.
"And just like that my 5th baby is off to college," she added in an Instagram pic late July. "Gabriel worked very hard over the summer to complete senior year courses and is starting at NAU today. So very proud of this kid and all of his hard work.#collegebound #wheredoesthetimego."
SAVANAH BROWN
Savanah, 14, is the couple's youngest child.
On her birthday last December, her family gifted her a bass guitar, as Janelle explained that the girl has been playing bass for a while but wanted to make the transition.
Savanah, alongside Gabriele, is constantly featured on her mother's Instagram account and they spend a lot of time together.
This summer, the trio visited family in southern California, North Carolina, and Sedona.
Savanah is still in school and according to her family, she's the sweetest of the siblings.
The Brown family recently moved from Las Vegas to Baderville, Arizona in mid-2018.
Please fill in your e-mail so we can share with you our top stories!