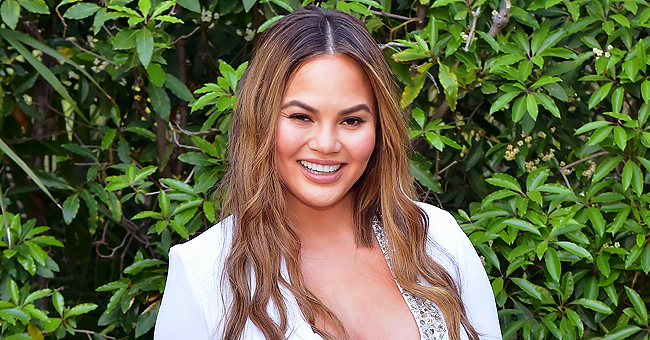 Getty Images
John Legend & Chrissy Teigen's Daughter Luna Poses like Her Model Mom in Pink Swimsuit on a Rock

Chrissy Teigen shows off daughter Luna's modelling skills in pink Swimsuit, posing on a huge rock. Proud mother and model, Chrissy Teigen flaunts her 3-year-old daughter, Luna Simone, on her social media handle as her dad, John Legend takes the shots.
It appears that the apple doesn't fall far from the tree, as Chrissy's little princess shows just how interested she is in modelling. The young chap was captured, sitting pretty on a rock, in an excellent model-like position.
She showed off her firm legs, one flat on the stone, and the other leg had its foot on the rock. Furthermore, Luna adorned a beautiful light pink swimsuit and had her hair behind her back. This pose possibly reminded the model of her swimsuit shoots.
The shot uploaded on Teigen's Instagram was during a vacation to Thailand, with her husband, John Legend and her 15-months old son, Miles Theodore.
She didn't stop at recognizing her daughter's potential with an "oh dear" caption but wanted the editor of the company she works for, MJ Day to notice it.
Mr. MJ must have made her day when he commented on how outstanding her three-year-old is in the comment section. He referred to the little champ, as an "effortless beauty," in a "Chic suit," whose pose showed that she "Owns that rock."
The experienced model, Teigen worked for SI Swimsuit and featured in the brand's issues for about nine years. Her dedication to the cause earned her the award-winning position as the Rookie of the Year in 2010.
Chrissy worked with other delectable models like Lily Aldridge, and Nina Agdal back in 2014 to feature on the Swimsuit's 50th Anniversary Cover.
So her credibility as a model cannot be contested, and her lovely princess charmer will be as successful as her mom if she treads that path.
Apart from modeling, Luna also loves dancing with her mom who is totally her look alike. A clip posted by the mother of two revealed them both partying and dancing together. While mama rocked a black colored top, the little dancer adorned a pink and blue attire.
Family vacations can sometimes be less exciting and have its not so funny moments. The 33-year-old updated her Instagram with a photo of her kids in disagreement, as she held each of them to her side.
She seems to be handling the situation well, as she captioned the shot,
"Everything's fine over here."
Legend and Teigen who exchanged vows in 2013 are doing nothing but enjoying their marriage and parenthood, as they proudly show off their offspring!
Please fill in your e-mail so we can share with you our top stories!