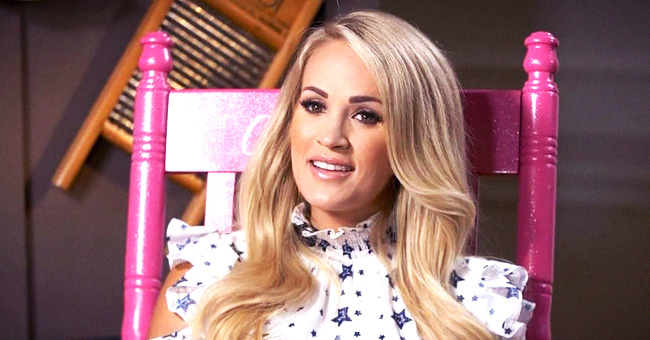 instagram.com/carrieunderwood
'Cry Pretty' Singer Carrie Underwood Shows Toned Legs 9 Months after Birth of Baby Jacob Fisher
Carrie Underwood, the American Idol winner, posts a workout video and shows off her amazing legs. According to her fans, her work is inspiring them to be better and work harder.
Carrie Underwood, the "Cry pretty" singer, took to Instagram to post a short clip of her workout. Underwood seems to be getting her body in shape after giving birth to her second son with husband, Mike Fisher. The couple welcomed their son Jacob in January 2019.
The video featured Underwood performing Box Jumps, a lower body workout. Though the video didn't have dialogue, Underwood put up an explanatory caption for the post.
She wrote: "What motivates you to #StayThePath? Visit @CALIAbyCarrie's Instagram to learn more about the #StayThePathChallenge and share your success!"
UNDERWOOD SPORTING HER FITNESS APPAREL
Underwood is currently flaunting her line of fitness apparel, Calia. Underwood created the Calia brand to make it easier for herself and all women while working out.
The line of apparel is designed for all different body types and fitness like swimwear, tops, bottoms, and innerwear. She
"We can be the strongest version of ourselves in very feet of our lives. We can give ourselves permission to choose exactly at we need -- a workout or a rest day. We can look as beautiful as we feel. We can Stay the Path," she said in regards to her story about the brand.
The fitness mogul is currently the lead designer for the entire Calia line of sports apparel. Underwoods' fans took to the comments to express how the star inspired them. The singer has gone through her share of unfortunate events in life.

Fan's comment on Underwood's post. | Instagram/carrieundewood

Fan's comment on Underwood's post. | Instagram/carrieundewood

Fan's comment on Underwood's post. | Instagram/carrieundewood
UNDERWOOD HAD THREE MISCARRIAGES
Underwood had gone through some complications during her pregnancies. She revealed in an interview with "CBS Sunday Morning," that she had gone through three unfortunate miscarriages.
"I'd kind of planned that 2017 was, you know, going to be the year that I work on new music, and I have a baby. We got pregnant early 2017, and didn't work out," she said. The singer also revealed that carrying on with her day-to-day life helped her get through the hard times.
"Cause I would literally have these horrible things going on in my life, and then have to go smile and, like, do some interviews or, like, do a photoshoot or something, you know? So it was just kind of, like, therapeutic, I guess."
The star is now staying the path, flaunting her toned body, and making thousands of her followers drool over her physique and her determination.
Please fill in your e-mail so we can share with you our top stories!