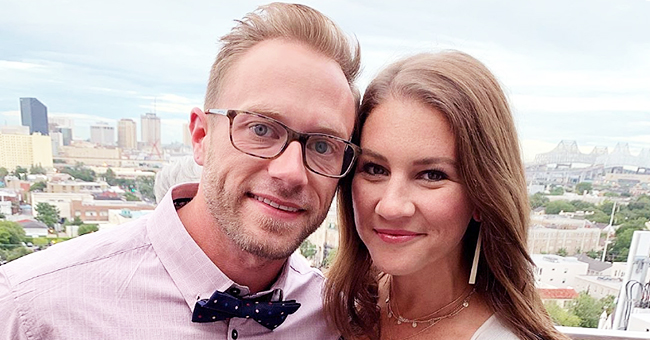 instagram.com/dbusby
'Outdaughtered's Mom-Of-6 Danielle Busby Shares Pic of Daughter Blayke and Nieces Isla and Lainey
The Busby girls are growing fast! Danielle Busby shared a new photo of her daughters, gushing, "Our big girls are growing up."
With six daughters, out of which five are quintuplets, Danielle and Adam Busby of "OutDaughtered," have their hands full. The mum-of-six took to Instagram to share a photo of her eldest child, Blayke, with two of her cousins.
The girls looked beautiful, as they linked arms and smiled widely. Blayke wore a flowered patterned gown, looking every inch the big sister with her short hair, while her cousins wore grey and black jumpsuits, respectively.
Danielle captioned the photo,
"Our big girls are growing up. #sobeautiful #itsabuzzworld #greasonbeeboutique."
Her followers commented on the post, calling the girls, "Cuties," and "Beautiful and adorable."
In August, the reality star shared a photo of all her girls at a baby shower for her friend, Kay Thomas. The quintuplets wore thin-strapped pattern dresses, and they all smiled brightly for the camera.
In July, Danielle shared an image of her and the girls dressed as Disney's princesses at a themed event, and she captioned it,
"Best day ever. Princesses upon princesses."
That same month, the TLC star and Adam took a vacation trip away from the children. The former made the reveal in an Instagram post, in which she let fans of their reality show know that she and the dad-of-six won't share any posts while an episode of "OutDaughtered" aired.
During an episode of the show in June, Danielle took one of the quintuplets, Ava, to the hospital, due to breathing problems she suffered from. It was found out that their house was infested with mold, which caused the family to move to a new home.
As the Busbys' settle into their new residence, the girls have returned to school for the new academic year. While four of the quintuplets, Ava, Olivia, Parker, and Hazel continue at preschool, their sister, Riley is starting kindergarten.
When Adam shared the news on Instagram, some fans criticized his and Danielle's decision to skip a class for one of the quintuplets. However, one of their fans defended them, saying parents have the right to make decisions for their children, and fans don't always know the whole story.
The TV star agreed with the statement, writing,
"[100%] typical social media for you. So many people who don't actually know my child, think that they know better than us, the parents."
He pointed out that only six parents in the world,
"Knows what it's like to raise all-girls quintuplets, with all the complexities we have to deal with every day."
Adam ended his response writing that he and Danielle are doing the best they can, and seeing how awesome their girls are, they are doing a great job despite being out daughtered.
Please fill in your e-mail so we can share with you our top stories!