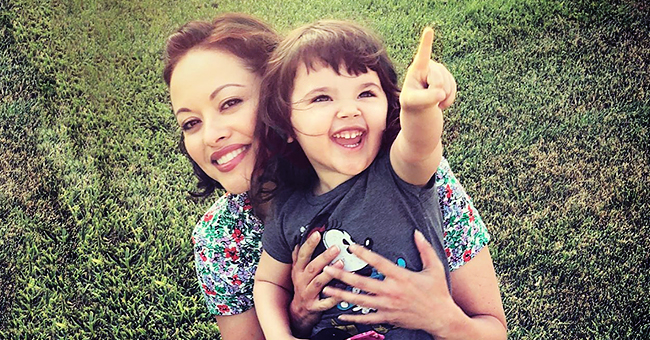 instagram.com/marisachicaramirez
'Blue Bloods' Marisa Ramirez Shares Childhood Photo and She Looks Just like Her Daughter Violet

American actress Marisa Ramirez left her fans amused on Instagram as she shared a dated picture of herself which might as well pass as that of her daughter.
The post, dated August 30, is a throwback picture of Ramirez. Going by the actress's humorous caption, the photo was taken during her first day of school. It features an adorable Ramirez wearing a pink plaid shirt sweetly designed with frills at its edges.
RAMIREZ SHARES THAT SHE HAD TO PROMISE VIOLET SHE WOULDN'T GIVE HER "A WEIRD SIDE PONY"
Just the top half of the ensemble can be seen as the camera was quite close to Ramirez. The little part of the outfit seen is, however, enough cuteness overload. Ramirez's luxurious hair is styled into a side ponytail and tied with a pink ribbon to match the rest of her outfit.
Sitted, the youngster gave a broad smile for the camera and that seemed to pronounce Ramirez's resemblance to her little daughter, Violet Rae. However, it appears that Violet, who will soon be starting school, finds Ramirez's hairstyle in the dated picture "weird."
Ramirez, who is best known for starring in the famous American drama series, "Blue Bloods," revealed the intimate details in the caption of the picture. The sterling actress wrote:
"#flashbackfriday With Violet's first day of school quickly approaching I had to promise her that mommy would not give her a weird side pony with a pink ribbon! #firstdayofschool #stillloveplaid."
UNLIKE VIOLET, FANS FIND THE DATED PICTURE VERY CUTE
Ramirez loves to share her moments with Violet with fans, and they respond accordingly. This new post of hers is no exception as many took to the comments section to express surprise that they happen to have an old picture much like the entertainer's.
While some agreed the side ponytail was a bit weird, a noticeable few found the image very adorable. One such fan, @snowmom3 commented:
"How cute! Ain't nothing wrong with wearing side ponytail, the famous ribbon, and those plaid blouse!! That's what 80's alllll about!" #whatchagonnadoaboutit."
Another @neesiehj humorously wrote:
"High collar dress shirt with ruffle trim? Shout out to the '80s when our moms knew how to dress us for pictures!"
Violet, born May 29, 2016, marked her third year birthday a few months ago. She seems to be growing fast, and fans can only hope that Ramirez will continue to share adorable snaps of her on social media.
Please fill in your e-mail so we can share with you our top stories!