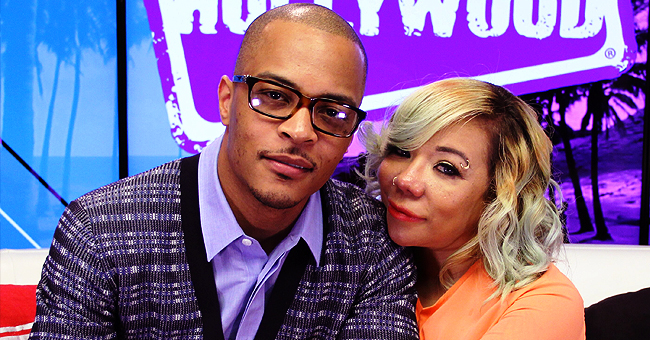 Getty Images
Xscape's Tiny and T.I. Battle It out on Whose Baby Photo Looks More like Their Daughter Heiress
Rapper T.I and his wife, Tiny are both having a good time debating who their youngest child, daughter Heiress looks like more. However, according to netizens, this is who wins.
Heiress, is the baby of the Harriss family, and she was born by the hip hop mogul and his wife in 2016. The little girl is not only beautiful, but she is also already known for her adorable singing, dancing and acting skills.
Being such a star at such a young age, it is no surprise the doting dad and mum can't stop gushing about their little girl.
Recently, the couple took things a little further when they started battling about which one of them Heiress resembles more. The debate started when the father of six took to Instagram to share side by side picture of himself as a little kid with that of his daughter.
"Twinz‼️ I just let @majorgirl think she looks like her? That's our lil secret tho?"
Tiny responded to the subtle shade thrown her way with a post showing a collage of her baby picture, an image of Heiress' and that of young Tip. She also shared two other images, which this time had only Tiny and her baby girl.
"Ok @troubleman31 she looks like u but maybe by 60/40 so don't get ahead of yourself Mr...she still lit lit like her mama! ??? #Mamasbaby #DaddyMaybe #Jk ?"
Tiny finally shared a video consisting of her baby pictures and that of her daughters. However, the debate got mixed reviews from their fans with some supporting the notion that Heiress resembles her mother, and some thinking Tip deserves the award.
In the end, most people like Tiny accepted that the little cutie although looks like them both, has more similarities with her daddy than her mum.
Although not so surprising considering she has two talented parents, the three-year-old is already growing to become a superstar in her own right. Heiress Harris just recently had her first acting audition, and according to sources, she nailed it.
"Heiress had her first real acting audition last week, and she nailed it, she's a total natural....she loves singing and dancing, and she can act, she's going to be a triple threat. Tip and Tameka are both incredibly supportive; she's for sure a superstar." a source tells HollywoodLife.
The adorable toddler recently celebrated her third birthday, and as expected, her parents went all out, throwing her one of the best birthday parties ever. The couple's love for their children knows no bounds, but sometimes it seems like all their affection goes to the adorable three-year-old.
Please fill in your e-mail so we can share with you our top stories!