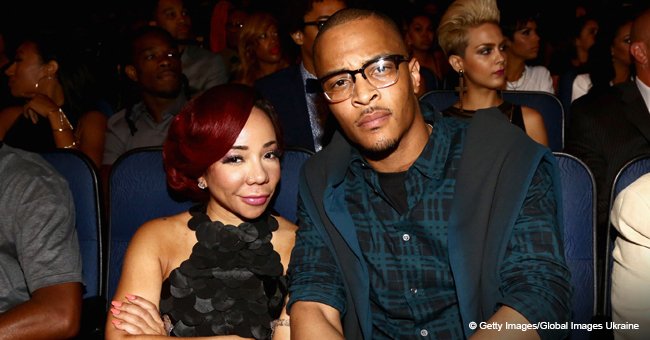 Tiny and T.I. Take 3-Year-Old Heiress to Visit the Grave of Their Daughter Leyah Who Died in 2007

In a rare moment, Tiny Harris and her husband, T.I. brought their daughter Heiress to the grave of their late child who died of stillbirth. "She woulda been 11 yrs old," Tiny wrote while sharing a clip of their visit.
While still mourning the death of his sister, T.I. and his wife Tiny Harris took a moment to remember their own daughter who died in 2007. The couple brought along their 3-year-old daughter Heiress to the grave of their late child who died of stillbirth.
Tiny and T.I. suffered a major loss when their daughter Leyah Amore, who would have been 11 today, didn't make it past six months in her mother's womb. Doctors explained at 16 weeks that the sac holding the unborn child had been split in two and left her floating in the middle. Tiny later learned Leyah lost her heartbeat and was forced to deliver her stillborn.
The couple was so devastated, they stayed with Leyah for hours after her birth. She would have been their second child and first daughter, following their son, King Harris. Tiny wallowed in her sorrow telling Essence,
"After Leyah was born, I kept her in the room with me the whole day. They placed her in the little basket and we dressed her in an outfit and had a blanket wrapped around her. They came and got her because her body went cold and I wanted her back so they warmed her body again and I kept her. Everybody came to visit her and then me and [T.I.] had our time alone with her."
Tiny confessed she hardly visited Leyah's grave after her death, refusing to relive the memory of her loss. However, she recently revealed taking a trip to see her and bringing along her youngest daughter, Heiress to meet her.
In an Instagram story clip, Tiny focused on Leyah's grave as Heiress stood before it and peeked into a slot that held a photo of her sister.
"That's your little sister, I mean your big sister," Tiny tells Heiress who's dressed in a red coat. She also added a caption to her clip which read,
"My babygirl woulda been 11yrs old."
Coinciding with the memory of her daughter, Tiny is mourning the death of T.I.'s sister, Precious Harris who was fatally killed in a car crash. Recent reports from the police revealed the actual events that led to her death.
It was previously told that the 66-year-old hit her car in a pole which prompted an asthma attack. However, it was revealed after her death by her grandniece, Kairi Chapman, who was with her during the accident, that she first suffered an asthma attack which caused her to pass out on the wheel and then hit a telephone pole.
Precious survived the accident and was in the ICU for a week before she died on February 22. T.I. posted a series of tributes after her death, reliving their moments together and the fun woman she was. They were reportedly very close.
Please fill in your e-mail so we can share with you our top stories!