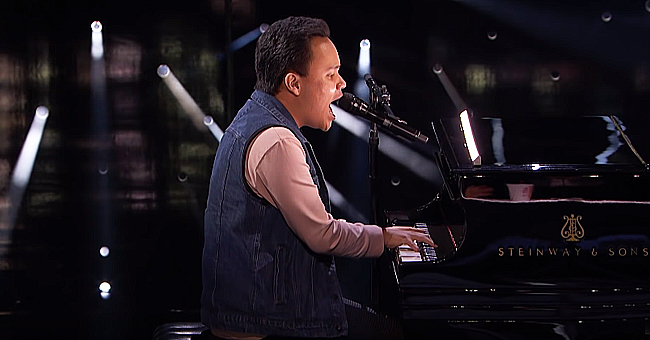 youtube.com/America's Got Talent
AGT Contestant Kodi Lee Performs an Inspiring Semi-Final Act Singing a Calum Scott Song
Kodi Lee, blind "America's Got Talent" contestant, leaves followers of the competition in awe and vying for him to win the reality competition. Here's why.
At first thought, it appears that Kodi Lee's visual impairment and autism might limit him, but that is, in fact, far from it. Aged 22, Kodi has gained attention after displaying great talent on the stage. He can not only sing, but he also plays the piano quite well too!
KODI LEE RENDERS THE VIEWERS SPEECHLESS
In a video, shared by the AGT team on YouTube on September 4, Kodi gives an emotional performance of Calum Scott's famous hit song, "You Are the Reason." The performance started off to a round of applause from the broad audience, and Kodi sure didn't disappoint.
Almost as expected, the rendition is an inspiring one as Kodi's voice rings out loud, clear, and driven with emotion. The 22-year-old proved all speculations that he might emerge this year's winner true.
Kodi, who has also been revealed to be autistic, won the Gabrielle Union's Golden Buzzer after wowing the judges with his powerful vocals. This most recent performance of his had even Simon Cowell, who is known for his bluntness when it comes to critiquing performances, in a trance.
The judge can be seen clasping his hands together and smiling so broadly as he watched on in awe. Not wanting to do anything to disturb the excellent performance, the listening audience chose to contribute to the emotional vibe by lending their phone lights to adorn the venue as Kodi sang.
"WE ARE ALL THANKFUL TO BE IN YOUR ORBIT," GABRIELLE UNION SAYS
Kodi finished the song to a standing ovation from fans and soon after, became the subject of discussion on many social media platforms. In absolute admiration, viewers praised the youngster's astonishing ability despite his many challenges.
The reaction to his performance alone is overwhelming as the audience repeatedly chanted his name to show support. The judges were also astonished by Kodi's rendition as they equally showered the singer with praise.
Barely holding back her tears, Union said:
"We are all thankful to be in your orbit."
The other judges also shared similar sentiments, expressing appreciation that they get to experience Kodi's unique talents. Now, Kodi has netizens, amazed at his skills, and they are rooting for him to win the widely-publicized competition.
Please fill in your e-mail so we can share with you our top stories!