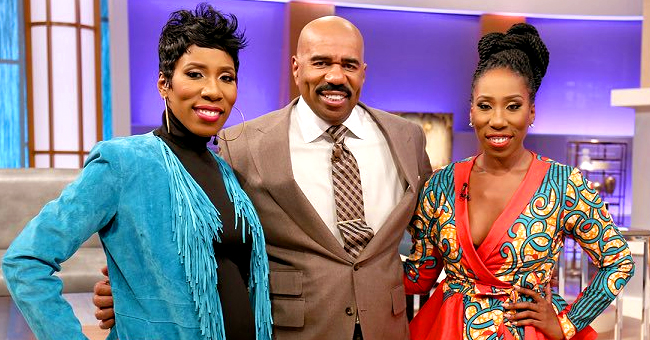 Twitter/AshleyAttLaw
'Family Feud' Host Steve Harvey's Twin Daughters Are Now 37 and Have an Uncanny Resemblance to Him

Renowned comedian, talk show host and actor, Steve Harvey has a pair of daughters who are his spitting image.
The apple certainly does not fall far from the tree; the resemblance between the father and his twin girls proves this to be true. Images online have shown how the 37-year-olds share peculiar features with their dad.
The African-American on-screen star has exchanged vows with three different women. His twins, Brandi and Karli, are a product of his first marriage to Marcia Harvey. He stops at nothing to flaunt his daughters, as he proudly talks about their lifestyle, and achievements.
Both girls were born in 1982 and were just teenagers when their parents divorced. Their dad chose to go after his career in the entertainment industry, and this caused a strain on his relationship with their mother.
The comedian's marriage dissolved on the grounds of him staying true to his dreams. Although he acknowledged that leaving the girls was not a good deed, he managed to get into their good books after he successfully made them understand his reasons.
While their dad's credibility in his field has earned him popularity, the girls have chosen a different vocation. Karli works as a fitness expert; she also co-runs an empowerment group known as "Young, Fit, Fly," with her sister.
Brandi is a wellness coach and founder of "Beyond Her," an advocacy for healthy living in colored women. She is more reserved, and there is not much information about her in the media. However, her twin features very often on their dad's show and is married to Ben Raymond with a child.
Recently, both girls teamed up to appear on the "Steve Harvey" show, themed "Twins Hour." The twins are not the only kids the talk show host has; Steve has two other biological children, named Wyton Harvey and Broderick Harvey Jr. He also has three stepchildren, Lori, Mason, and Morgan.
During a recent vacation in Monaco, with his third wife, Marjorie Harvey, the proud dad featured alongside five of his kids, in a summer shot uploaded by his wife. The Harvey pack seemed to be having fun on a Monte Carlo Boat.
Fans were quick to notice the absence of the Harvey twins and they inquired concerning their whereabouts. That was not all; a few commenters stated that the girls often avoid their step-mother.
Recently, the "Family Feud" host celebrated his girls during their birthday. His post was a throwback of them as kids, while he carried each on both hands. He professed his love for his twins and his action seemingly satisfied the fans who were thrilled.
Whether or not the girls feature in family hangouts, it doesn't change the fact that their dad loves them so much, and they also look like him more than any of his other kids.
Please fill in your e-mail so we can share with you our top stories!