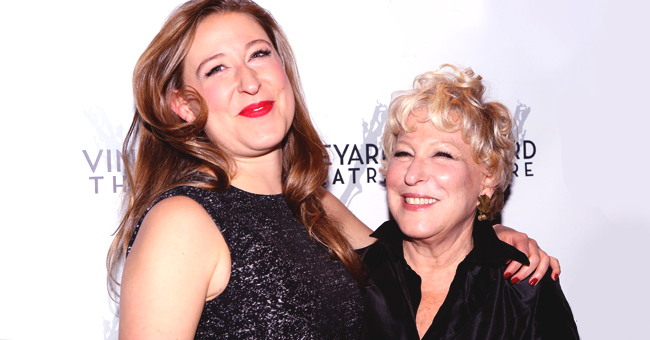 Getty images
Singer & Actress Bette Midler's Daughter Sophie Is All Grown up and Looks Just like Her Mother

Singer and Actress, Bette Midler's daughter is all grown, looks like her famous mother, and did something else to complete her mini-Bette personality.
When singer and actress, Bette Midler, stands beside her grown-up daughter, Sophie Von Haselberg, it is clear that the two share a very close resemblance.
Take away years from Midler, and bring her down to her daughter's age, and it's easy to conclude that these two are identical.
The mother-daughter duo shares the same facial features and smile, but beyond that, they share an unbreakable bond. The actress makes a habit of taking her lookalike daughter with her to most public events, and at this year's Met Gala, the two walked the red carpet together.
In 2017, when Midler got a Tony Award for her performance on the Broadway play, "Hello Dolly!" she went in the company of Sophie, and the resemblance between the brunette and blonde beauty was evident in the way they acted while posing for the camera.
Asides from the bond and resemblance these two shares, they also have something else in common; acting. Sophie is an actress like her mom, but it wasn't always her first choice.
The young version of Midler studied Sociology and East Studies at Yale, after which she went to China to work for an ad agency.
Upon her return, Sophie went back to Yale and studied Drama. Since then, she has had roles in movies like "Irrational Men," 2011, HBO "Wizard of Lies," and appeared in season 5 of Netflix's "House of Cards."
While the young woman had the opportunity to learn her craft from a university, Midler didn't have that privilege.
Born into a poor family as Better Davis Milder, the woman who went on to win a Grammy with her first debut album, "The Divine Miss M," learned about ballet, opera, and theater from reading books at a Honolulu public library.
The singer's parents, Fred and Ruth Midler, were lovers of movies, and so a young Midler fell in love with the arts. Her foray into film started in '79 with "The Rose," and it earned the actress two Golden Globes award, an Academy Award nomination, and a Grammy for Best Soundtrack.
In 2007, the American Film Institute chose "The Rose," and "Wind Beneath My Wings," a song from Midler's '88 movie of the same title, as parts of its compilation for "100 Years of the Greatest Songs."
The Singer-actress remains active and is living her best life with Sophie by her side.
Please fill in your e-mail so we can share with you our top stories!