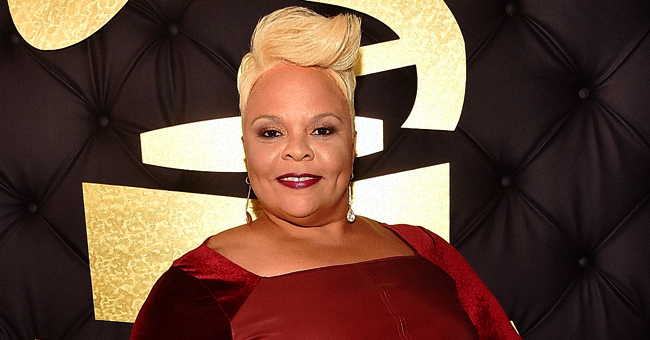 Getty images
Tamela Mann Overjoyed as She Reveals 40-Pound Weight Loss after Double Knee Replacement Surgery

Tamela Mann looks good and feels amazing after weight loss and knee surgery.
Gospel singer and actress Tamela Mann is looking and feeling fantastic after undergoing double knee replacement surgery in July.
She's back on her feet and feeling light as a feather after losing an incredible 40 pounds.
TAMELA MANN IS BACK ON HER FEET AND DANCING FOR JOY
Just two months ago, Tamela underwent knee replacement surgery on both knees to alleviate constant pain, and the results of the operation have exceeded her expectations.
Tamela has already recovered her mobility, and what may certainly have helped is her massive weight loss during her recovery.
Tamela reaches out to others who have been struggling with weight problems
TAMELA SHARES HER JOY IN INSTAGRAM
To celebrate losing 40 pounds, Tamela posted a video clip on Instagram that shows her brandishing balloons and showering confetti as she announces her progress.
"I am officially 40 pounds down!!! I'm telling y'all @ww is changing my life for the better!" she wrote.
TAMELA MANN BECAME A WEIGHT WATCHERS AMBASSADOR
Tamela, who has struggled with her weight all her life, joined Weight Watchers as an ambassador and is raving about how partnering up with the organization is helping her achieve her goals.
TAMELA MANN SHARES WORDS OF ENCOURAGEMENT
Tamela reaches out to others who have been struggling with weight problems and feel helpless and alone, faced with a daunting struggle to keep to a rigorous diet.
"First of all, they need to know that we're not alone and you can still have what you want, within moderation. A lot of times what happens when we say diet, you can't have this, you can't have that, and you can't do that. That's not what WW is doing, and that, to me, gave me a little comfort," she said.
Another pitfall for many aspiring weight losers is "doing it for the wrong reason," Tamela believes that weight loss requires determination and that men and women must make the decision for themselves, not to please others, or to conform to society.
It's certainly working for Tamela, and she looks great!
TAMELA MANN'S JOURNEY TO WEIGHT LOSS
Gospel Singer Tamela Munn has been struggling to lose weight for years, now at 52, she has joined Weight Watchers, and she has already achieved an impressive 40-pound weight loss.
For Tamela, embracing a healthier way of eating and living wasn't just about herself, but about her family too.
When her husband David was diagnosed with Stage 2 diabetes, Tamela decided they had to change their lifestyles for the sake of their health.
As Weight Watchers' new ambassador, Tamela is setting a brilliant example, and we hope she quickly achieves her stated goal of wearing a size 16 again.
Please fill in your e-mail so we can share with you our top stories!