YG and Kehlani Reportedly Dating Just Months after Both Musicians Welcomed Babies with Other People
YG and Kehlani are reportedly a couple just months after welcoming babies with other partners. The singer and rapper appear to have gone public with their relationship in a new video.
Kehlani and YG (real name Keenon Jackson) made their first public outing on Thursday at the New York Fashion Week, and TMZ cameras captured the moment.
As they made their way into the KITH fashion show, a cameraman asked if YG and Kehlani are now an item.
"Safe to say its official?" he asked to which the "America's Got Talent" alum replied coyly: "Mmm-hmm."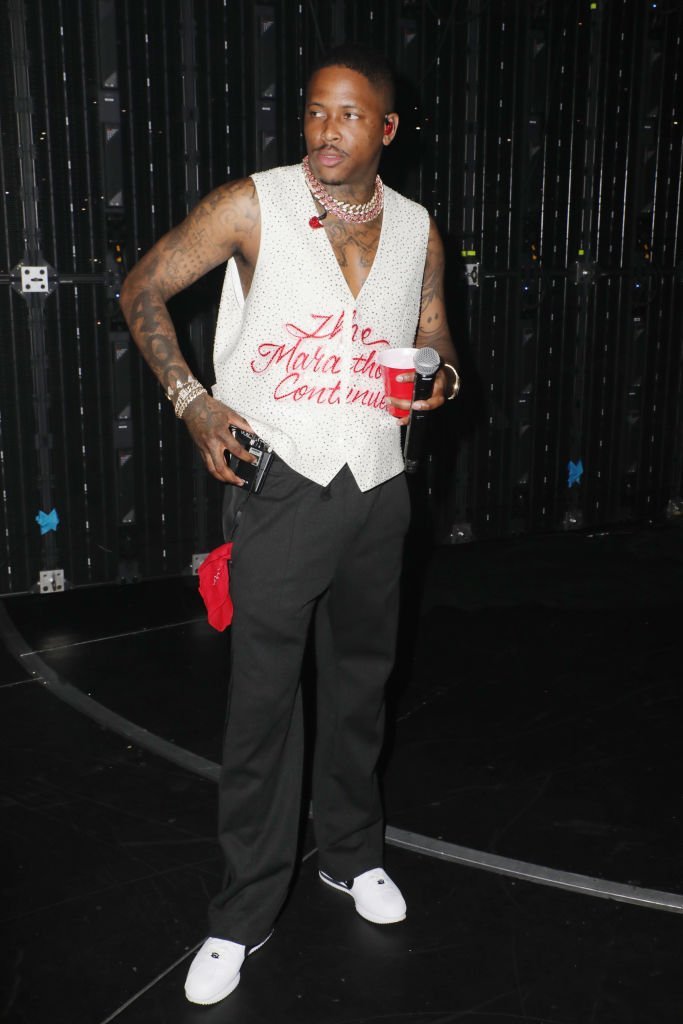 While Kehlani did not offer a definite response, it's important to note that neither she nor YG denied the speculation. Karen Civil, who according to Complex, is YG's acquaintance also reposted TMZ's video with the caption: "YG & Kehlani on their first official outing as a couple!"
Meanwhile, photos of the alleged lovebirds exiting the NYFW show see them holding hands as they walk down a flight of stairs. YG, 29, and Kehlani, 24, made quite the fashionable pair with their ensembles.
The "Gangsta" singer chose an oversized navy blue blazer that put her cleavage and tattooed legs on display. Minimal jewelry, a sleek ponytail, and generous amounts of makeup completed her NYFW look.
The "Big Bank" rapper, on the other hand, rocked a black leather jacket with white flame detailing over a white vest and black pants. He accessorized with sparkly red shoes and a matching belt.
YG and Kehlani's sighting comes months after both musicians welcomed children with other people. In March, Kehlani gave birth to her daughter Adeya Nomi with guitarist Javie Young-White.
The singer told fans at the time that their child came into the world via an "unmedicated homebirth" and Javie also gushed about the experience on Twitter.
"Adeya is home," Javie announced, adding:
"Kehlani gave birth at home standing up, unmedicated, into my arms as we spoke her 1st words to her. The most beautiful moment of my life. These two are my reason & resolve. We are enjoying each other & our health, resting & surrendering to love. My heart is full."
In YG's case, he welcomed a second daughter, Vibe Jackson, two months ago with Catelyn Sparks. The rapper and Catelyn also share a three-year-old daughter.
Congratulations to YG on the birth of his second daughter Vibe Jackson! pic.twitter.com/ltEHu7745h

— Karen Civil (@KarenCivil) July 14, 2019
Understandably, reports of YG and Kehlani dating has fans doing a double-take on social media. "'YG and kehlani are dating' is the most confusing sentence I've read all day," one fan said.
"YG & Kehlani being 'together' is the most random thing ever," another added.
Kehlani and YG 🧐 hmmm he really livin the "Imma Pisces she's a Taurus" life now pic.twitter.com/vhk7CRhKcN

— city girl (@queenxofqueens) September 6, 2019
PEOPLE, meanwhile noted that reps for both musicians did not immediately respond to their request for comment.