Princess Charlotte and Prince George Were All Smiles on a Photo Taken Shortly before Going to School
Cute siblings alert! A new photo from Kensington Royal showed Princess Charlotte and Prince George looking smart and smiling widely as they pose for the camera.
It's the back-to-school season for children in the United Kingdom, and that includes the young Royals, Princess Charlotte and her older brother, Prince George.
SMART, SHARP, AND SMILING
Prince William and Kate Middleton's Instagram account, Kensington Royal, shared a photo taken of the siblings before they headed off to school. Princess Charlotte and Prince George held onto each other looking smart, sharp, and smiling widely. 
The photo got accompanied by the words:
"The Duke and Duchess of Cambridge are very pleased to share a photograph of Prince George and Princess Charlotte at Kensington Palace this morning. The photo was taken shortly before the Royal Highnesses left for Thomas's Battersea this morning."
Royal lovers loved the photo, and one person wrote:
"They are adorable children." 
Another fan wrote:
"Such an adorable photo, thank you, William, and [Kate] for sharing this wonderful day with us."
PRINCESS CHARLOTTE IS NEW AT THOMAS'S
September 5, was Princess Charlotte's first day at the elementary school. She was previously attending Willocks Nursery School before joining her brother at the south-west London school where kindness is taught to be as important as academic success. 
The little girl wore what is called a transitional uniform of pinafore, white summer blouse, white socks, and black shoes. Prince William and Middleton got a 2% discount for having a second child at Thomas's, and Prince George who's been attending the school since 2017, is expected to show his little sister the ropes.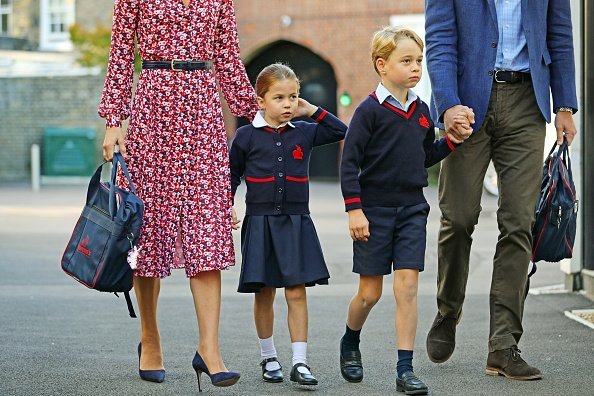 PRINCE WILLIAM AND KATE TOOK THE SIBLINGS TO SCHOOL
Earlier, the Royals shared a video via Kensington Royal showing Princess Charlotte's arrival for her first day at school. Unlike that of the young Prince, which saw Middleton absent due to hyperemesis, she was present to escort her little girl and son.
The Royals smiled as the little girl who's known for her boldness walked shyly behind her mother. She soon became her usual self, as she played with her ponytail, and waved at the cameramen outside the school. Prince William said his only female child is excited for her first day, and Prince George equally looked excited.
With the school year already off to a good start, it is evident that Princess Charlotte and Prince George will have a great year and the support of each other.