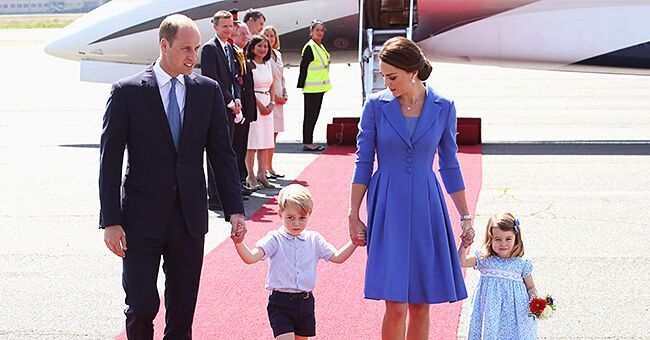 Getty Images
Kate and William Reportedly Back from Scotland as George and Charlotte Prepare for School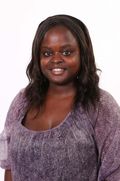 Prince William and Kate Middleton fly economy with their children, as they return from Scotland. The couple arrive just in time to prepare their children, Prince George and Princess Charlotte for school.
The royal family maintain the annual tradition of spending their summer vacations in Scotland, with Queen Elizabeth and Prince Philip at their Balmoral Castle, in Scotland. They are often joined by their cousins, Zara and Philip, who also bring their families along for the vacation. It is reported, the Queen often leaves presents for her grandchildren, in each of their rooms.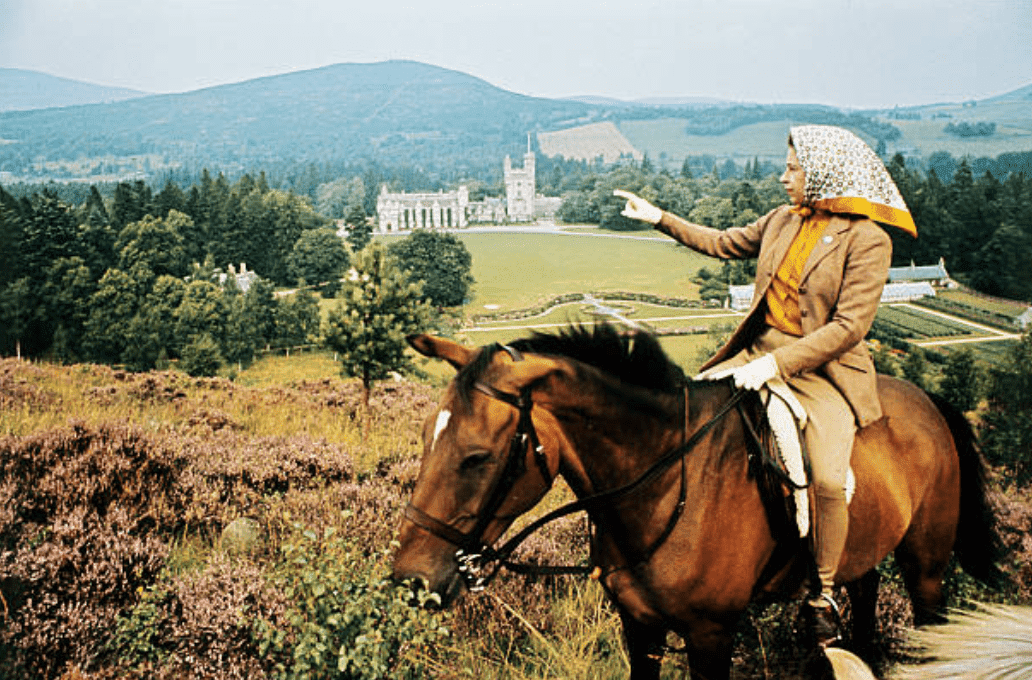 Queen horseback riding during the Royal Family's annual summer vacation in September 1971, Balmoral, Scotland | Source: Getty Images
This year, Prince William and Kate Middleton travelled with all three of their children, Prince Louis, Prince George and Princess Charlotte to Balmoral Castle. During the trip William and Kate were pictured attending a church service with Queen Elizabeth.
Wearing a bright pink blazer and matching feathered hat, Queen Elizabeth waves from her car, while sitting next to Kate who also smiles to onlookers.
The couple's return from Scotland is the most talked about event of their trip. Choosing to fly economy on FlyBe airlines, passengers where surprised to realise that they had been sitting in the same plane with the royal family. It was only when the plane landed did passengers notice Prince William and his family disembarking and getting into black Range Rovers, parked on the tarmac. A passenger tell The Sun:
"Suddenly, Will, Kate, and the kids all got up, and left. They weren't harassed by anyone at all as they got off the plane. They just seemed like a family traveling together to be honest. No one saw them get on the plane either. It was amazing how they did it — they must have slipped on quietly, after people were already seated."
Looking like an ordinary family travelling, William carries the bulk of the luggage, with his two children in tow, carry their own bags and Kate follows behind her family carrying Louis in her arms.
Their choice of travel has the media once again pitting the royal couples against each other. William and Kate have received praise for their budget conscious and environmentally friendlier commercial flight.
Unlike Prince Harry and Meghan Markle, the media has criticised them for flying four private planes during their 11-day vacation. According to The Sun, William and Kate trip cost them £365 in comparison the estimated £20 000 it took to hire the private plane for Harry and Meghan.
The couple have returned from their vacation, to prepare their children, Charlotte and George for school at the prestigious Thomas Battersea school. It is estimated that the private school costs £19 287 a year.
Recently, Thomas Battersea school was in the media when "Good Day America's" host Lara Spencer faced backlash for mocking the school's curriculums in having ballet lessons for George.
George, who has been at the school for almost two years will be joined by his sister Charlotte. According to PEOPLE, the Charlotte is excited to be attending her new school. The siblings, who are close in age have a strong bond and are happy to be going to the same school.
Please fill in your e-mail so we can share with you our top stories!