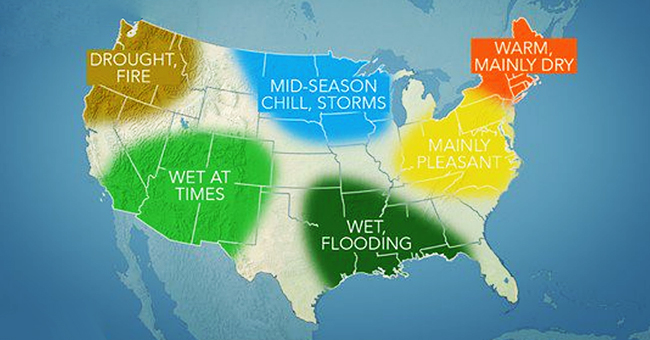 twitter.com/KOYNFM
AccuWeather Released Its Fall 2019 Weather Forecast
With summer gone and fall already here, the season's weather forecast makes an essential read. AccuWeather has released the full forecast for Fall.
The most important discovery is that the summer weather is going to stay for just a little while more. Here are the highlights from the recently published reports.
IT'S GOING TO STAY HOT ALL THROUGH SEPTEMBER
For the United States, AccuWeather's 2019 fall forecast shares predictions that temperatures, abnormally high, will stay throughout September.
While many enjoyed the summer, it will be hard to adjust to the hot weather staying on through Fall. According to the report published in August, warm weather will continue across much of the Northeast and mid-Atlantic regions of the United States through September.
Expert forecaster Paul Pastelok said:
"There are probably going to be people at the beaches for a longer duration this year compared to other years."
THE PREDICTED HEAT MAY INCREASE THE RISK OF WILDFIRES
Pastelok explains that Pacific Northwest to the east of the Cascades will get the worst of the heat and dryness. That will be even more pronounced at the beginning of the season and will add to the wildfire risk for these regions. Pastelok further said:
"But farther east, across parts of Montana and Wyoming, I think they could get some moisture and a cooldown."
As if that isn't already enough, reports share that the astonishing foliage that many have come to look forward to when it's fall will become limited due to these predicted conditions. The vibrancy will reportedly be limited, resulting in a "spotty season at best."
FLOODS MAY TARGET THE SOUTHWEST
The Southwest monsoon is forecast to end on time in September, but it is hard to tell if the remainder of the Fall season will be dry. AccuWeather predicts the possibilities of one or two flooding events as tropical moisture is pulled in from the eastern Pacific Ocean.
Potential Santa Ana winds may kick up on occasion and spark new fires over parts of Central and Southern California. Mid- to late season, a more active weather pattern will allow some strong systems to move onshore, potentially bringing early snow to the mountains and above-normal rainfall to the valleys in California.
THE FARMERS' ALMANAC PREDICTS WINTER IN 2020 WILL BE HARSH
In other news, The Farmers' Almanac has published its extended annual forecast for the coming 2019-2020 winter season. According to reports, they predict that the period will be a "freezing, frigid, and frosty" winter.
Thinking of that, it is best to just revel in the lingering summer!
Please fill in your e-mail so we can share with you our top stories!