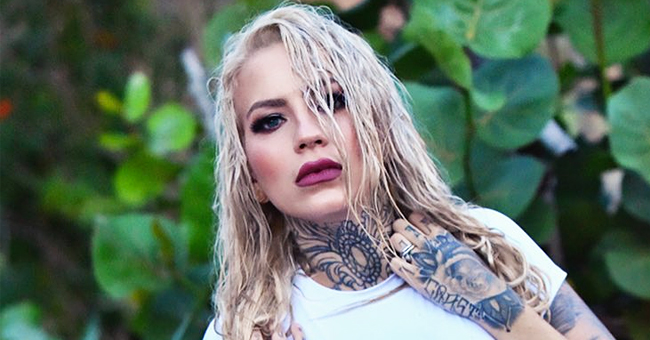 instagram.com/jamiepchapman
'Dog' Chapman's Daughter-In-Law Praises Him for Handling Interviews about Beth's Death Well
Jamie Pilar Chapman is proud of her father-in-law for the way he's handled several interviews about his late wife Beth Chapman, even if he's cried several times.
Duane "The Dog" Chapman and his entire family were left devastated when family monarch Beth passed away on June 26 due to throat and lung cancer.
His son Leland's wife Jamie is one of many who noticed how well Duane is getting by in interviews. Duane and Beth were the most famous bounty hunting couple the world has known.
In an Instagram post, Jamie admitted that she was worried about Duane doing interviews last week considering the pain he's been going through.
Yet afterward, she said that he "knocked every interview out of the park." Duane held little back emotionally. "Every time he cries, I've cried!" Jamie admitted. She said Duane showed "grace and strength" throughout.
Jamie believes Duane is "making an angel above so proud," referring to her late stepmother-in-law. She and the rest of the family are also proud of Duane. "This whole family loves you very much!" she concluded.
The 30-year-old attached a promotional piece for the WGN show "Dog's Most Wanted" which premiered on September 4. "This one is for Beth!" she wrote.
The new show features Duane and Beth who, in her final weeks, worked alongside her husband to catch criminals from the nation's Most Wanted lists.
In an interview with Fox, Duane said of bounty hunting: "It's in our blood. We just love it. We love to do this." Beth worked with Duane since 2004 when "Dog the Bounty Hunter" first premiered, until it ended in 2013.
Some of their family, including Leland and wife Jamie, returned for "Dog's Most Wanted" to help catch bad guys. Jamie is also doing her part on social media by clearing up lies following Beth's passing.
Back in July, she addressed rumors that her husband had been rushed to the hospital and was in critical condition. While Leland did have surgery the month before, Jamie tagged the claim as "Internet Lies."
She reportedly clarified: "Last month my husband did have surgery. However he was never rushed to the hospital, nor was he ever in critical condition! Clearing the air!"
Jamie has also been paying tribute to Beth regularly following her death. In July, she shared a picture of a mother's day card that Beth gave her and called it the "most personal piece of [Beth]" she now owned.
The card's heart-wrenching message was handwritten by Beth and expressed her happiness about Leland and Jamie's relationship. Jamie said the card "means the world to [her]."
She said she sometimes hears Beth's voice while reading it and will sometimes start crying. She also promised to continue loving and taking care of Leland and thanked Beth for raising him.
Leland and Jamie have been married since 2016. Beth is also survived by her son Dominic David from a previous relationship, as well as Bonnie Jo, Garry, and Cecily who she shares with Duane.
Please fill in your e-mail so we can share with you our top stories!