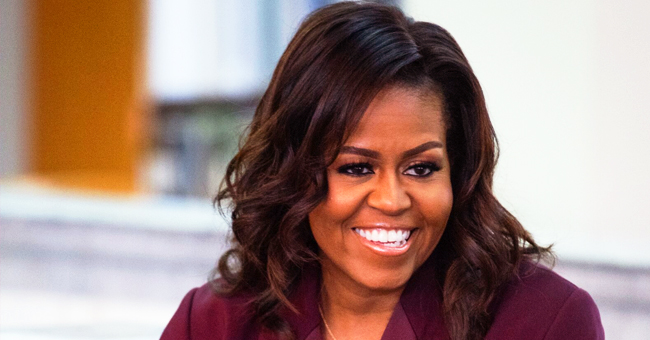 GettyImages/GlobalImagesUkraine
Michelle Obama Opens up about Her Grandparents and Shares a Beautiful Picture of Them in New Post

Former First Lady of America, Michelle Obama, shared heartwarming details about her paternal grandparents on Instagram. Also, she seized the opportunity to motivate netizens by giving one of the best advice!
In honor of #GrandparentsDay, the two-time first Lady of America couldn't go another day without letting the world know how much she cherishes her grandparents.
We clearly got the message in her latest Instagram post which entailed an adorable photo of them and a heartfelt caption.
Michelle started off by introducing the couple as LaVaughn Robinson and Fraser Robinson, Jr. In the write-up, she referred to them as Grandma and Dandy, respectively, because those were her pet names for them.
Then she continued:
"For years, grandma managed a thriving Bible bookstore on the South Side of Chicago. She was perhaps my first example of a professional woman, showing that being graceful and being in command weren't mutually exclusive. Dandy, meanwhile had moved to Chicago from South Carolina as a young man in pursuit of better opportunities."
Further in the caption, she described the hardships they, specifically Dandy, faced as a result of racism. Nevertheless, Dandy worked several odd jobs to provide for his family. Later, he got a job with the postal service and worked there for thirty years.
It is evident in her writeup that she utterly respects them. She ended the caption by advising internet users:
"On #GrandparentsDay, I hope you'll all send a little love your grandparents' way. Give them a call if you can-or simply hold them in your heart, grateful for all that they've given you."
On this note, this isn't the first time Michelle paid tribute to her grandparents. In 2015, she also praised her maternal grandpa, Purnell Shields, alias "Southside" in a clip, as
reported
by the Chicago Tribune.
THE MOTIVATIONAL MICHELLE OBAMA STRIKES AGAIN
Michelle is known for trying to bring out the best of everybody by using effective tactics like motivational speeches, creative online posts, and her educating books that are selling fast.
This time, she uploaded a throwback snapshot from her days in school to show how imperative a good education is, according to Today News.
Attached to the image was an enabling caption that was aimed to motivate young students.
Please fill in your e-mail so we can share with you our top stories!