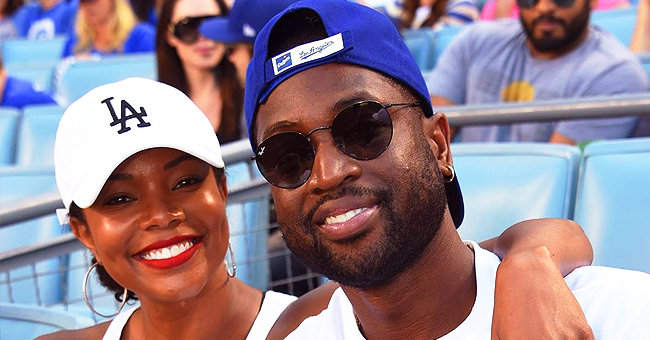 Instagram/dwyanewade
Dwyane Wade Shares Photo of Himself Throwing Baby Kaavia in the Air While Playing in Swimming Pool

Father-daughter moments are priceless! Dwyane Wade had fun in the pool playing with his daughter, Kaavia, as he gave her a huge lift into the air.
When it comes to Dwyane Wade and his daughter, Kaavia James' relationship, they give off serious father-daughter goals. A recent post on the retired basketballer's Instagram showed a glimpse of the strong bond between the two.
In the photo, Wade had his lower body in the swimming pool, with his head hung back in a show of ecstasy, and his hands were suspended in the air. Baby Kaavia hung in the air, with arms and legs leaning forward like someone about to land.
In the accompanying caption, the proud father made a solemn promise to his daughter, with the words, "I got you," and a heart-shaped emoji. His wife, and Kaavia's mother, Gabrielle Union, liked the post, and so many followers left lovely comments.
One person wrote,
"Her form is literally perfect," and another "Yes Kaav! Soar mama." A third wrote, "The Joy," while a fourth wrote, "I had to zoom in to see her face… cutie."
The photo post is one out of many that Wade has shared of his daughter having fun in the water. In July, he shared a video of the baby whom social media users dubbed "Shady Baby" showing off her skills underwater.
The little girl who was 8-months at the time brought to life the fact that babies are born with a reflex that allows them to breathe underwater better than adults — bradycardic response.
The video showed Kaavia navigate the water correctly as her trainer urged her along, but she equally had the help of floaters, which she held in her hands.
Recently, Wade and Union's daughter had a significant milestone — she said her first words. Interestingly, it was not what her parents expected, the usual, "Mama," and "Dada" but "Bye." Speaking about her daughter's first word, the "American Got Talent," judge said,
"I thought saying 'Mom' and 'Dad' first was sort of natural, but she started saying 'Bye' which says it all."
The proud mum added that her little girl is "Very much her own person," and she is equally saying words like, "Hey," and "Hi." Kaavia is Union and Wade's first child together, and the former basketballer pro, has three children, Xavier, Zion, and Zaire, from a previous relationship.
Please fill in your e-mail so we can share with you our top stories!