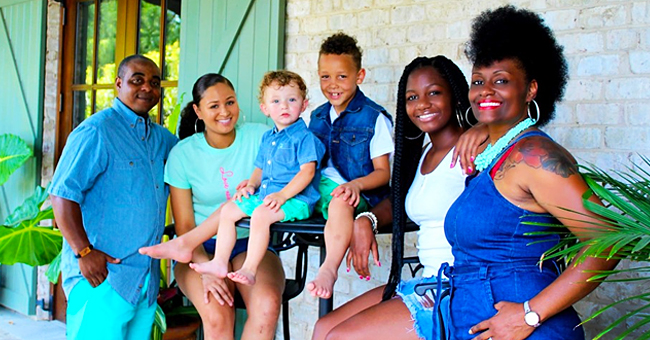 Facebook.com/raisingcultures
North Carolina African American Family Adopt a White Baby & Share Their Inspiring Story

Keia Jones-Baldwin and her husband, Richardo, inspired many when they adopted a premature baby born to a drug-addicted mother.
The beautiful family was featured on a Facebook page called "Raising Cultures" which celebrates love as being colorblind.
"Is there any way you can go to the hospital and do skin-to-skin with a baby?"
Keia and Richardo are an African American couple from North Carolina with three children – daughters Zariyah, 15, and Karleigh, 16, and son Ayden, 8.
Zariyah is the couple's daughter from a previous relationship while Karleigh and Ayden are both adopted.
UNEXPECTED ADOPTION
Keia, a therapist, and her husband had been wanting to adopt another child, but they didn't expect it would be a white premature baby named Princeton.
Princeton was born premature to a drug-addicted mother in July 2017. He only weighed one pound.
"My foster care supervisor called and said, 'Is there any way you can go to the hospital and do skin-to-skin with a baby?'" Keia shared to TODAY Parents.
Keia quickly went to the hospital.
"I bonded with him so quickly," she said. "I started going there every day."
Princeton eventually stabilized and was taken out from the NICU. Keia and her husband brought him home to serve as his foster parents for three months.
But they ended up adopting the white child, to the delight of their older children.
HARASSMENT OVER SKIN COLOR
Keia admits that they now have an unconventional family.
"We get a lot of stares," she said. "I'm frequently asked if I'm Princeton's babysitter. ... I get, 'Why didn't you let him stay with a family of his own race?'"
They've even experienced harassment just because the child is white and they're not.
Once, Keia pulled over outside a man's house because she had a flat tire.
"I knocked on his door to explain why I was on his grass," she recalled. "He called the police and said I stole my car and the baby."
Racism remains a problem in the United States. In another widely-publicized incident, an elderly white woman in Indiana was arrested after she vandalized her new neighbors' home and left behind a letter threatening their black child.
Please fill in your e-mail so we can share with you our top stories!