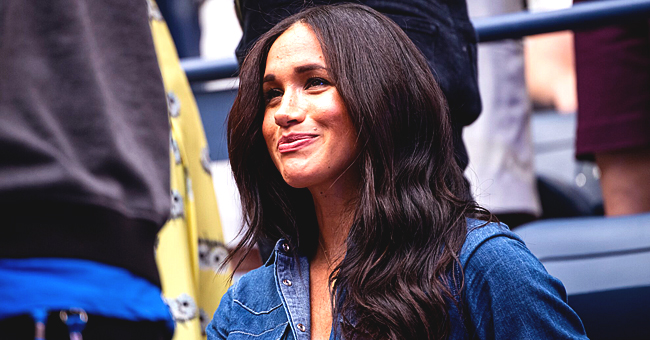 Getty Images.
Meghan Markle Gives Shy Smile on Jumbotron at Bestie Serena Williams' US Open Finals Match

The Duchess of Sussex seemed pleased with her looks as she adorns a shy smile on her lips, realizing how pretty she looked on the Big Screen at the tennis game in New York.
Mirror, mirror, am I the fairest of them all? These were definitely the words playing in Meghan's head as her smile revealed her confidence in her beauty. The mother-of-one donned an appealing attire which looked simple, yet gorgeous while in New York.
The 38-year-old Royal travelled across continents to support her buddy, Serena Williams at the U.S. Open last week.
The internet was quick to recognize this gesture, and when Meghan's face appeared on the Big Screen, and she got introduced, a Twitter user known as Michaela hurriedly captured the moment.
A fan took to Michaela's comment section to beckon on the Royal to return to her home country, where she has lots of love. Other fans acknowledged that the actress turned Royal looked ravishing and has a good life with her family.
Apart from being present to cheer her pal, the Duchess concerned herself with looking very radiant. She rocked a J.Crew blue button-down denim dress, paired with a light shade of grey jacket. That was not all; the sizzling look was crowned with jewelry from Jennifer Meyer, fitting for a royal.
Meghan's took the last plane flight to watch the game as she strove to be by her friend's side all through the competition against Canada's 19-year-old Bianca Andressecu. She left her husband, Prince Harry and infant son, Archibald Mountbatten Windsor, back in the U.K.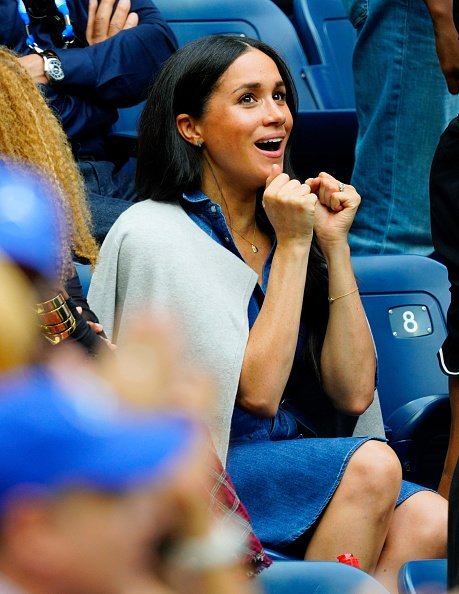 Meghan, Duchess of Sussex watches Serena Williams at the 2019 US Open Women's final in New York City.| Photo: Getty Images.
Although her family was absent, the mother-of-one
thoughtfully wore a necklace
with their initials on it and was seen stroking the 14-karat-gold once or twice.
The media took notice of the royal as usual, but the eye-catching thing was her "dog tail" necklace, which was tagged as a "classic" and "contemporary" piece.
This is not the first time she will be wearing letter ingrained necklaces. During her attendance to Wimbledon's game, Meghan donned an "A" ingrained neckpiece. This was also to say that even though she might be away from baby Archie, she holds him close to her heart.
When the Duchess of Sussex was 7-months pregnant, she rocked a "mommy" jewelry proving that she will be just the right type of mother for her baby whether or not he is physically present!
A beautiful, dedicated mother, loving wife, and hearty friend are words that settle on the description of the Royal.
Please fill in your e-mail so we can share with you our top stories!