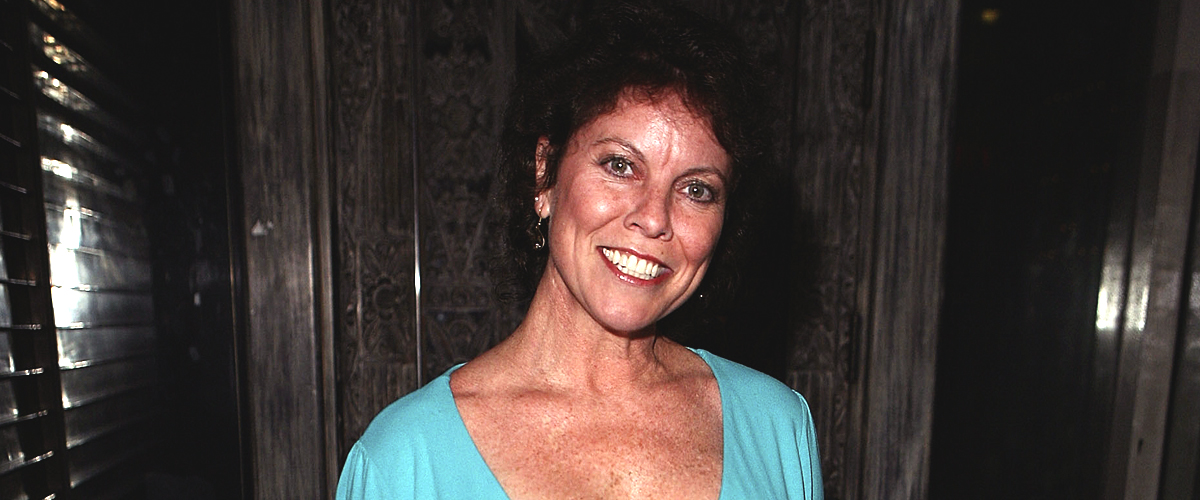 Getty Images
'Happy Days' Star Erin Moran: Her Not so Happy Final Days
Erin Moran, the actress best known as Joanie Cunningham on "Happy Days," passed away on April 22, 2017. Unlike the show, her last days were not happy.
Born on October 18, 1960, Erin's career in the entertainment industry began when she was only five years old. She appeared in a TV commercial for First Federal Bank.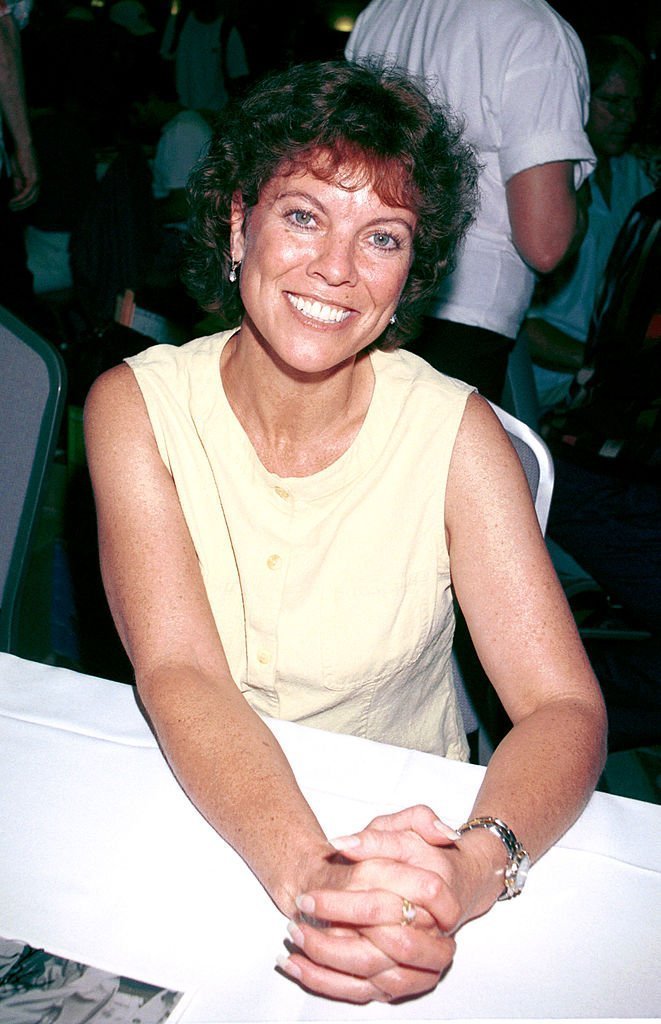 Erin Moran in North Hollywood, California on June 23, 2001 | Source: Getty Images
Erin Moran's time on "Happy Days"
After that, the young actress kept getting gigs in shows like "Daktari" and "Family Affair" before landing her breakthrough role, Joanie Cunningham, on the sitcom "Happy Days."
The show, which ran from 1974 to 1984, showed an idealized vision of life between the mid-50s and the mid-60s in the Midwestern United States. Apart from Erin, actors as famous as Ron Howard, Marion Ross, and Henry Winkler worked in it.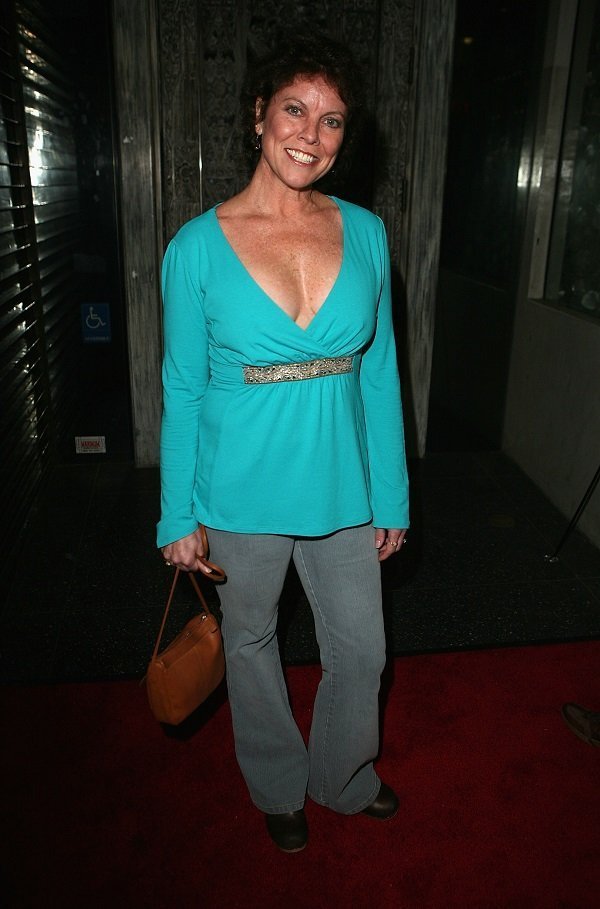 Erin Moran on March 14, 2007 in Los Angeles, California | Source: Getty Images
Her life after the show
After leaving "Happy Days," Erin appeared on "Match Game-Hollywood Squares Hour" and "Murder, She Wrote." However, she didn't get as many acting gigs as she would have liked to.
Her last film role was on the 2012 film "The Deceit," in which she portrayed Mrs. Shephard. Her final part on TV was on "Celebrity Ghost Stories" during the same year.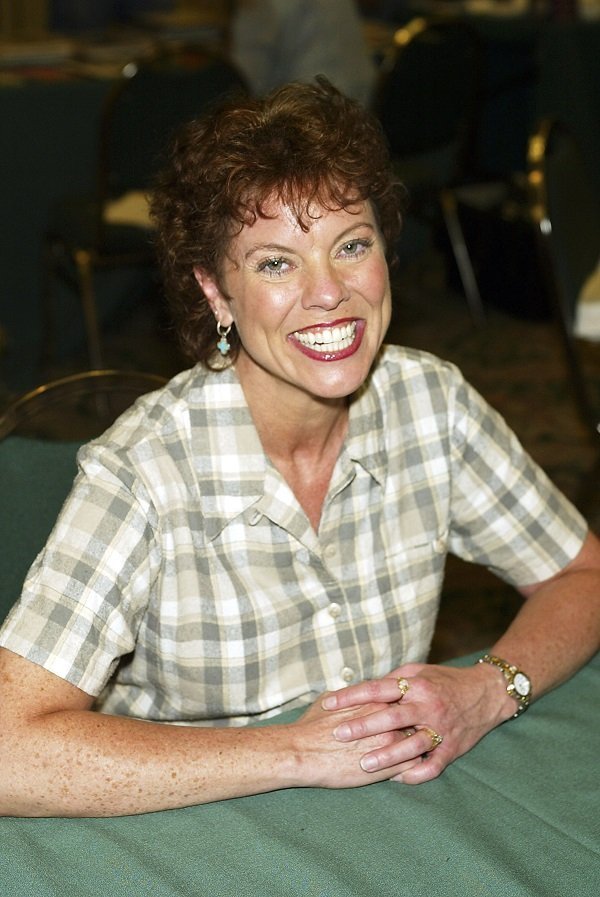 Erin Moran on August 16, 2003 in Burbank, California | Source: Getty Images
Her death
Unfortunately, she passed away on April 22, 2017, due to stage 4 cancer. According to a lengthy statement that her husband, Steve Fleischmann, shared, she had been diagnosed with skin cancer in December 2016.
Her condition deteriorated quickly and, by February 2017, she could no longer speak or eat, so doctors had to implant a feeding tube. Despite her condition, she was still happy and would often text her friends.
On April 22, 2017, Steve laid on the bed next to his wife and fell asleep holding her hand. About an hour later, when he woke up still holding her hand, "she was gone, she was just gone."
Steve pointed out that the Norton Cancer Institute, where Erin's cancer was treated, "never said how bad it was," adding that it had already metastasized to her spleen and part of her brain.
Only two days after her passing, her former "Happy Days" co-star Scott Baio claimed on The Bernie & Sid Show that she had died as a result of her excessive drinking and drug use.
After saying that he was "not completely shocked" about Erin's death, the actor said: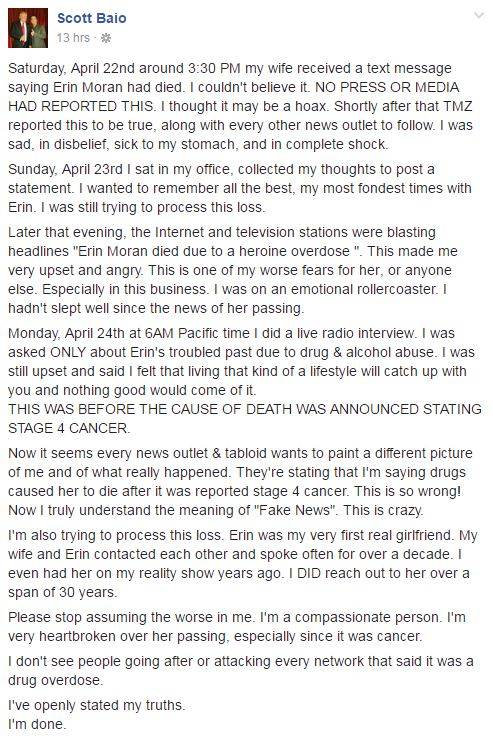 Scott Baio's apology | Source: Facebook/Scott Baio
"My thing is, I feel bad because her whole life, she was troubled, could never find what made her happy and content. For me, you do drugs or drink, you're gonna die."
Once it was revealed that the cause of death was stage 4 cancer, people started attacking him on social media, and Scott apologized.
Her troubled final days
The years before her passing, Erin made headlines, not because of her acting or her health condition, but for her financial struggles, being homeless, and even living in hotels.
In 2012, Erin and her husband were living with his mother. One of the negative aspects of the late actress was her "hard-partying" lifestyle, something that got her into a drunken street fight with her mother-in-law.
Steve's mother kicked both of them out of her trailer park in Indiana, which worsened their financial problems.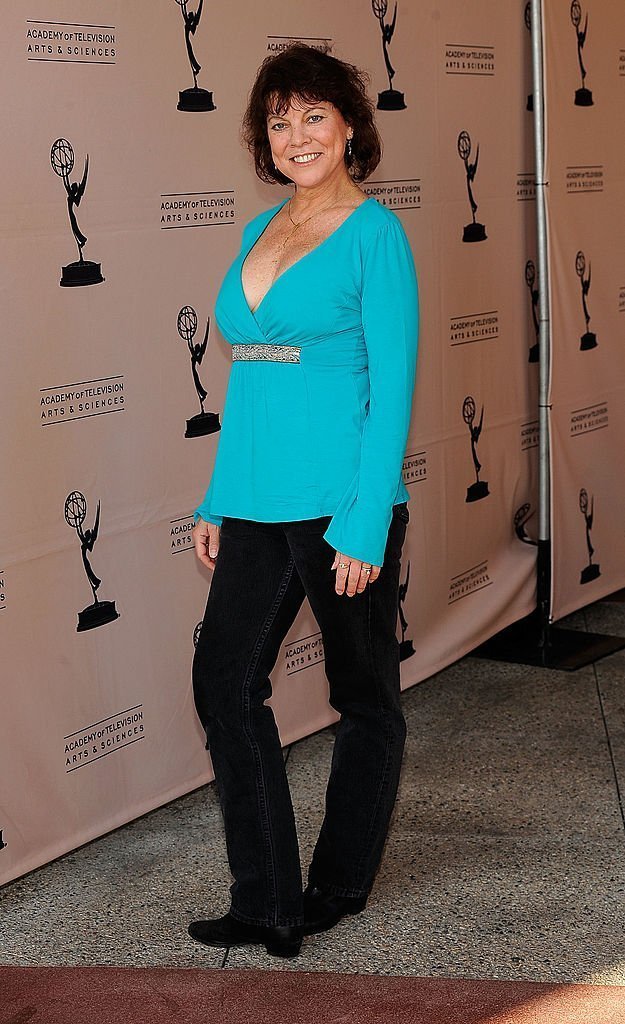 Erin Moran on June 18, 2009 in North Hollywood, California | Source: Getty Images
From that point on, they started living in hotels, which made her former "Happy Days" co-star Henry Winkler invite her to work in the 2013 Netflix series "Arrested Development." She didn't appear on the show, though.
David Holt, one of her previous neighbors, said that she was trying to solve her alcohol problems before her death.
"Everybody's got problems, and she was working through the problems to try and better herself. You have to understand she was such a nice lady she'd walk up and down the street and she was always waving. She was a good lady," David said.
Unfortunately, she died too early to see the outcome of her fight against substances. Rest in peace, Erin Moran.
Please fill in your e-mail so we can share with you our top stories!