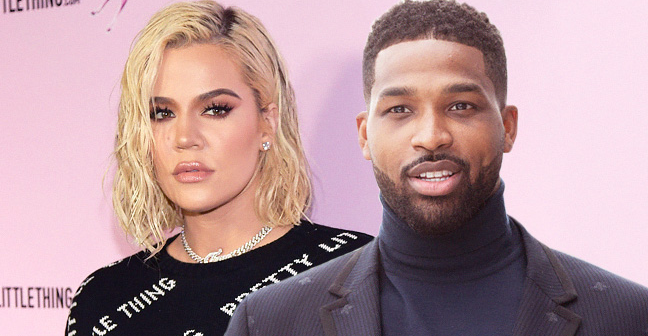 GettyImages/GlobalImagesUkraine
KUWTK: Khloé Kardashian Claims Ex Tristan Thompson Tried to Kiss Her before True's Birthday Party

Wherever the Kardashians are, there's sure to be drama as Khole reveals her baby daddy made moves on her before their daughter's birthday.
A new season of "Keeping Up with the Kardashians" which premiered on Sunday, September 8, gave fans a glimpse of the drama to expect. The episode revolved around Khloe Kardashian's daughter, True's first birthday and her parents' relationship.
In a clip shared via KUWTK's YouTube page revealed that Khloe's ex and baby daddy, Tristan Thompson had tried to kiss the reality star. According to Khloe, the incident occurred a day before their daughter's birthday party as reported by Cosmopolitan.
Khloe had met up with the professional basketballer with the plan to bury the hatchet, but things quickly took an unexpected turn.
During the meet-up, Tristan had insisted that the reality star shared a glass of wine with him and had teased her about not giving him a full-body hug. In an attempt to provide him with a full-body hug, Tristan tried to grab a kiss she unprepared to receive.
While sharing the story with her assistant, Khloe states:
"I'm like, 'It must say, 'dumb [expletive] on my forehead".
The star added that she quickly shut down his intent by telling him:
"' This is the problem with you. You can't just take what you get'."
She explained further:
"Then this morning, he was like, 'Thank you for letting me see True. She looked great; you looked even better.' Sometimes I feel like if I give an inch, he'll take a mile and take my kindness for weakness."
Before that incident, the TV personality wondered if inviting her ex to True's birthday party would be a horrible mistake. But her mother, Kris, told her it was a bad idea, as it would speak ill of her to keep True's father away from her.
But Tristan is allegedly not slowing down on his ploy to win Khloe back as Cosmopolitan reports that the 28-year-old bought her a car recently. Daily Mail adds that Tristan FaceTimed her several times while sending her enough flowers to start a floral shop.
The duo broke up earlier this year after news of Tristan's alleged cheating went viral on social media. The Cleveland Cavaliers player was alleged to have cheated on the reality star with Jordyn Woods amongst several other women.
Please fill in your e-mail so we can share with you our top stories!