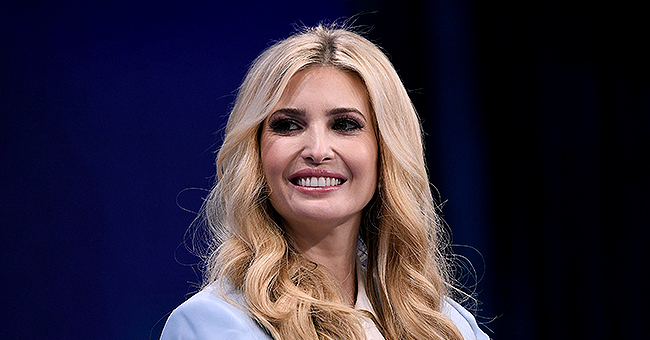 Getty Images
President Trump's Daughter Ivanka Trump Flaunts New Blonde Bob as She Dons $3,100 Suit in Alabama
First daughter, Ivanka Trump, makes an innovative move as she tours a new Alabama technology training facility. However, attention is drawn to her pastel suit, which she is wearing for the second time.
Via her official Instagram, Ivanka shared memorable snaps taken during the innovative visit to Tanner.
She also excitedly shared how the tour had been an "incredible one" as she met students participating in "cutting edge manufacturing training programs" through FAME at the Alabama Robotics Technology Park.
"Today, we were also excited to announce that the National Association of Manufacturers will be spearheading Toyota's FAME program to expand apprenticeship programs across the Nation! #PledgetoAmericasWorkers #WorkforceDevelopment," a part of Ivanka's caption reads.
There are four pictures in total, and every one features Ivanka in a pale blue suit. As always, Ivanka displayed great poise as well as a refined sense of style as she paired the pastel outfit suit by Partow with nude patent leather heels.
The outfit reportedly cost about $3,100 amd was worn with a simple cream shell underneath it. Known for her simplicity when it comes to fashion, it is no surprise to find that the one accessory visible is a gold medallion necklace.
The pale color of the suit made the perfect complement for Ivanka, and she knows it. It is a favorite of hers, as she wore it to speak at the Milken Institute Global Conference in Beverly Hills just a few months ago.
Back then, she had had her hair styled into luxurious curls, but that was not the case on Tuesday. This time around, the mother of three had her blonde hair cut into a short bob and her face sporting smokey eye makeup and dusty rose lipstick.
Netizens quickly took to the comments section to praise the 38-year old's elegant looks while a significant number humorously made jabs at her.
One Instagram user, @f2dao2daz commented:
"Wow... good thing you missed that hurricane that was never going to get to alabama…."
Another, @worth_her_salt wrote:
"Glad to see a strong hurricane recovery effort!"
The sarcastic comments are all borne out of the "#sharpiegate scandal" which quickly went viral on Twitter. A week ago, President Trump released a tweet where he presented an official weather chart showing the states that could be hit by the hurricane Dorian.
A curved black line had been added to the cone on that chart to show a risk that Dorian could move from Florida to Alabama. But, it never did and so, roused netizens. No one quite does it like president Trump!
Please fill in your e-mail so we can share with you our top stories!