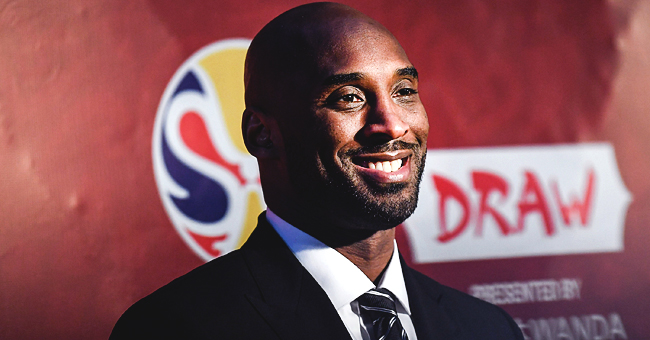 Getty Images
Retired NBA Star Kobe Bryant Holds Daughters Bianka & Capri at 'Legacy and the Queen' Book Signing
Kobe Bryant proudly showed off his two youngest daughters who surprised him with a visit while promoting his new book. He recently opened up about what a joy it is to be a father for the fourth time.
Kobe Bryant was at Barnes and Noble for the signing of his third book, "Legacy and the Queen" when his wife, Vanessa Bryant dropped by and surprised him by bringing along their new baby, Koko and their 2-year-old, Bianka Bella.
The proud father couldn't help but share the pleasant moment to his fans by posting a photo of him holding the little girls. Bianka looked thrilled on one arm while Koko cozied up in another. The photo is proof that Kobe is first and foremost a happy dad.
THE JOYS OF BEING A FATHER
The former basketball player turned writer recently sat down with Extra and spilled on the joy of becoming a father for the fourth time. He was especially impressed with Koko who he described as "our best baby."
"She sleeps like six hours. She's an absolute sweetheart," he explained.
The father-of-four also opened up to Jimmy Kimmel about the dynamics at play when it comes to his daughters.
"I always say if you look at the eldest daughter, she's always like the calm, responsible, thoughtful one, and then the second sister is like a tornado, like Elsa and Anna," he said. "That's certainly like our house, and then we have two other ones."
Kobe and Vanessa's two older daughters are Natalia, 16, and Gianna, 13. Though Vanessa was hoping they would someday have a boy, Kobe doesn't mind completing the pack with another girl.
ON HIS PASSION AS A BOOK CREATOR
Meanwhile, Kobe is also busy being a writer, a talent he discovered towards the end of his reign on the NBA. Kobe explained that he came to a point where he wanted to create something for his daughters. So he ventured into storytelling via his multimedia original content company, Granity Studios.
His first project was an animated short, "Dear Basketball," which won an Oscar last year. Then he published "The Mamba Mentality: How I Play" the same year as his first book. The second book he created was "The Wizenard Series: Training Camp" which was written by Wesley King.
TENNIS AND HIS NEW BOOK
Finally, this year, he used tennis as a backdrop for his third book, "Legacy and the Queen" which was released early this month. The work of fiction tells the story of a 12-year-old girl who pursues her passion for tennis in order to help her father save his orphanage. It involves magic that the girl uses as special powers for her matches.
On why he chose tennis, Kobe admitted it was a sport that could teach the youth about life.
"I wanted to take something that had a fantasy appeal to it and connect that to sports. Tennis has those qualities, those challenges," he told Baseline. "If I'm trying to teach [my daughters] how to navigate through society as they get older, what are some sports that can really teach them?"
No doubt the celebrated athlete will be doing more big things when it comes to his new passion especially because it's his girls he has in mind when thinking of new projects.
Please fill in your e-mail so we can share with you our top stories!