LHH Stars Ray J and Princess Love's Daughter Melody Wears Burberry Dress in Adorable New Photos
"Love & Hip Hop Stars" Ray J and Princess Love's true passion is their daughter Melody, and we're in love with that little cutie too.
Ray J and Princess Love cant's stop boasting about their baby girl, and sharing adorable snaps of each precious moment they share with her.
One of their latest Instagram posts garnered over 100,000 likes in just a few hours and dozens of comments from the delighted fans.
BABY BURBERRY IS THE BEST
In the new snap, little Melody is decked out in the high-fashion label Burberry's baby-wear line, wearing a pinafore in the brand's signature cream and black tartan.
Under the pinafore, Melody has on a simple white t-shirt, and she accessorizes with dainty shoes with white grosgrain bows.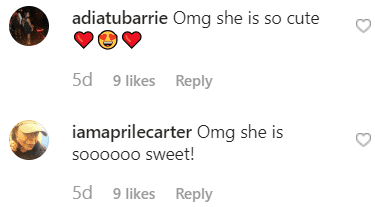 Melody is about to become a big sister
FANS GUSH OVER MELODY
The fans' comments were all complimentary, and people couldn't stop gushing over how cute Melody is, and how much she looks like her grandmother.
"She looks like a little princess i don't see rjay at all."
"She's such a cute lil nugget."
"Omg what a flipping cute munchkin."
"She looks just like your mom...identical...she is adorable."


MELODY IS RJ AND PRINCESS LOVE'S FIRST CHILD
On May 23, 2018, Ray J and Princess Love welcomed their first child, Melody Love Norwood. The rapper admitted that having a child has been a game-changer for him.
"It's been amazing… It's just totally made me have a different outlook on life and just how to move and be- I was crazy, so now I'm sane and I'm focused on just being the best dad I can be and working hard," he said.
BABY #2 IS ON THE WAY
The happy couple have announced that Melody is about to become a big sister and that the second baby is expected to arrive sometime in January 2020.
They posted photos showing off Princess' growing baby bump, and Ray J captioned it: 
"Baby #2 on the way! @MelodyLoveNorwood your [sic] about to be a big sister! #Godisthegreatest."
Congratulations to this little family that is about to get bigger!
RJ MELTS HEARTS WITH MELODY'S FIRST WORDS
Well, Ray J's and Princess Love's second baby will have a tough act to follow because big sis Melody is just cuteness overload.
Ray J shared the most adorable vid ever that shows little Melody cooing in her pram and babbling her first words which just happened to be "dada.".
OMG! God gave me the best gift!  @melodylovenorwood so #Blessed she sayin DaDa now!" Ray J wrote.
This little munchkin just gets cuter and cuter!