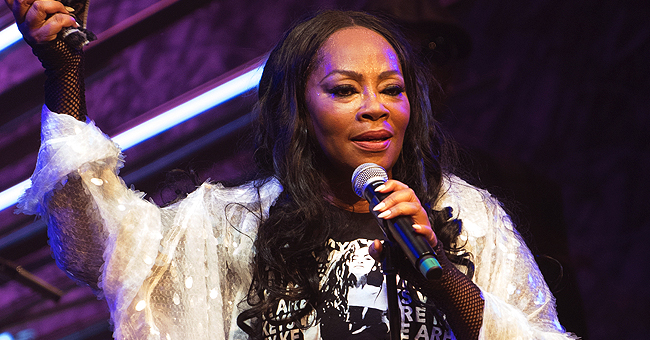 GettyImages
How 'Shalamar' Singer Jody Watley's Life and Career Was Changed by Untimely Death of Her Father
One heartbreaking event changed Shalamar singer Jody Watley's life and made her question her priorities.
Jody Watley was on top of the world. She was the lead vocalist of the Grammy-winning R&B and soul group Shalamar, and a world-wide celebrity for her outrageous fashion choices.
But in 1982 her world fell apart when her father passed away at the age of 50.
JODY WATLEY'S FATHER WAS A MINISTER
Jody's father was a Pentecostal minister in Chicago, a dynamic and flamboyant man whom she adored, and his sudden death devastated her.
In the wake of his passing, Jody made several decisions which would change her life, and one of them was leaving Shalamar, which she had been heading since 1977.
"The sudden death of my father in 1982 changed my life, he wasn't even 50 years young. It was one of the final catalyst's for my departure from Shalamar at the time. It was a wakeup call that life is short and unpredictable – be happy as much as you can," she said.
Jody has had an incredible impact on the careers of female music artists
JODY WATLEY MOVED TO ENGLAND
After leaving Shalamar in 1982, Jody moved to England, where she collaborated with Art of Noise British musicians Gary Langan, Anne Dudley, and J.J Jeczalik and participated in Bob Geldof's "Do They Know It's Christmas" recording for Band Aid alongside UK stars like Bono, Boy George, Sting, George Michael, Phil Collins, Status Quo, Paul Weller, and Bananarama.
JODY WATLEY GOES SOLO
When Jody returned to the US it was to forge her solo career as an independent, in the process recording 32 Top Ten Singles and 13 No.1 Singles in the R&B, and pop music charts in a 30-year-long career.
Jody Watley in concert 2017 in New York/ Source: Getty Images
JODY WATLEY - AN ON-GOING INSPIRATION
Jody has had an incredible impact on the careers of female music artists, by going it alone, making the music she wanted on her own terms, she opened the way for women like Lady Gaga, Beyoncé, and Rihanna.
To this day Jody credits her jazz-loving father with imbuing her with a love of music. Her godfather was legendary soul singer Jackie Wilson, and she got her first break on Soul Train at 14.
Jody forged her own family: she has two children, Lauren, and Arie, whom she keeps away from the public eye.
Her younger sister Michelle Watley is a former adult actress and singer, who is best known by her stage name, Midori.
JODY WATLEY FASHION DIVA
Throughout her career, Jody Watley impacted as much with her daring and outrageous sense of style as with her undeniably superb music.
She often used her album covers and her videos to make style statements mixing French couture with street fashion.
She featured on the covers of Harper's Bazaar, Vogue, Vogue Italia, Essence, and Vanity Fair, and was considered one of the 50 Most Beautiful People of 1990.
Please fill in your e-mail so we can share with you our top stories!