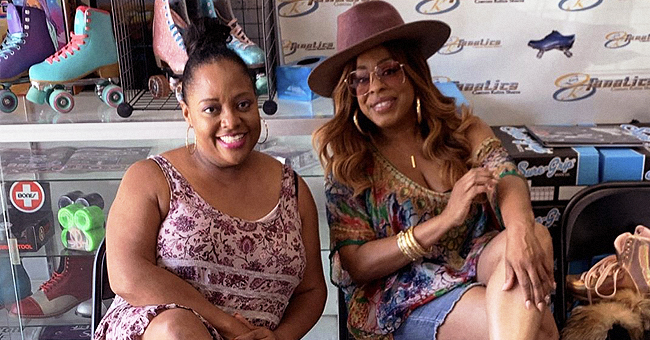 Instagram/sherrieshepherd
Former 'View' Co-Host Sherri Shepherd & 'Claws' Star Niecy Nash Flaunt Their Legs in Roller Skates
Sherri Shepherd and Niecy Nash have put in the work when it comes to their bodies, and they are showing their progress off in new photos posted on Instagram.
Back in February, PEOPLE reported that actress and comedian Sherri Shepherd was on a weight loss program. The report revealed that Sherri had lost about 30 pounds, going from 189 to about 159. The actress also shared her waistline measurements — she's at 35 inches now, down from 47 inches.
Seven months later, it seems her dedication is still paying off as she looks gorgeous and healthier in new photos she shared on Instagram. In the pictures, the 52-year-old is seen rocking roller-skates with friend Niecy Nash.
The duo looks comfortable in their loose gowns which stop before their knees. The post features shots with the owner of "SK8FANATICS" and one of the establishment's employees. Fans, who are in love with this side of Sherri and Niecy, took to the comments to express their delight.
"Those skates are sweet!"
said one staking enthusiast as another fan added:
"Y'all are too sexy! I Love you both."
A third fan had some encouraging words for the pair:
"You all look amazing!!!! You two got this all the way"
Another fan, who had plans for Sherri, stated:
"I love y'all!! You know you cute. I would bust my a** if I looked at a roller skate so I will live vicariously through you, Sherrie!!"
Sherri's post comes a few weeks after Niecy took to Instagram to
share
a mirror selfie while
rocking a swimsuit
. The comedian who doubles as a television host captioned the post:
"I APOLOGIZE to myself! I bought a new swimsuit and tried it on, then proceeded to Drag Myself - pointing out every "flaw", every bump, lump, scar, ripple & stretch mark. These hips caught two husbands (and a few boo's), my thighs touch, but I gained weight having good food with great people.
She continued the lengthy caption saying:
I see my c-section scar peeking out (thank you @thekatvond for putting a tattoo over it), but it's a reminder that I brought 3 beautiful children into the world. Loving your body can be a rollercoaster ride, ESPECIALLY WITHOUT A FILTER! But with all that said, I purpose to be kinder to myself today then I was yesterday. "
The post garnered over 70,000 likes with TODAY
reporting
that the post inspired reactions from her 1.8million followers.
Please fill in your e-mail so we can share with you our top stories!