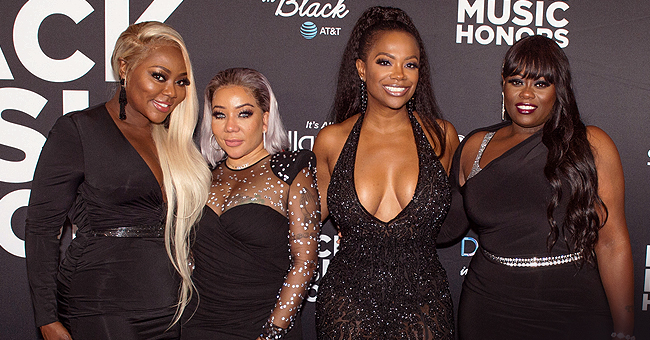 GettyImages
XSCAP3's Tiny Harris Posts Old Pic of RHOA's Kandi Burruss, Gives Shoutout to Her Friend's Cleavage

Onscreen diva, 43-year-old Tiny Harris recently uploaded a throwback image of herself and her friend, Kandi Burruss with a funny caption.
Tiny's talent as a singer was recognized at the just concluded Black Music Honors which took place on September 5th. The musician who attended the event in style was not alone.
Kandi Burruss accompanied her friend, and both women looked nothing but exquisite in their garments.
While they both donned matching colored attire, most people's attention was focused on Kandi's looks thanks to Tiny's hilarious caption of the image.
The "T.I & Tiny" star wrote,
"Sitting pretty with my sis@kandi & her titties. They almost made me forget about her right-hand man & my buddy @donjuannc #Icons #NoScrubsAllowed #BigBankOnly."
The talented singer's fans were quick to get in on the joke by commenting on the post. One fan wrote,
"Tiny I love u. In my eyes you are the definition of being a Bonnie. Women could never ride for the man the way u have. Salute."
While another commented,
"I'm jealous I should be saving up to buy some of those instead I'm making Starbucks rich."
However, the friends seem to share a deep connection, and while they may rock the same color of dresses and attend award ceremonies together, they also set boundaries.
In an interview with HollywoodLife, 42-year-old Kandi revealed that she would never think of going on a date with her husband, Todd Tucker, her friend, Tiny and her beau, T.I.
"We've all hung out together before, but we don't like double date. No, no double dates," Kandi said.
Although she established that they are all in good terms, the Xscape singer isn't interested in a double date, she said,
"But as far as touring and other stuff, we said we were gonna do some more shows."
The "Real Housewives of Atlanta" star also mentioned her work relationship with Tiny. She claimed that it is as cordial as their friendship.
According to reports garnered on the talk show "The Real," the Xscape stars were not always friendly. The women had a clash before spinning it into a healthy and balanced relationship.
Kandi shared how pregnant Tiny "swung" on her with inappropriate words. She revealed in the interview that she wasn't having any of it, as she gave a similar reaction.
She said:
"...I love her to death, but I mean, I feel like if you come at me, I am coming at you… So she swung on me, and I swung on her back...And we started laughing like ten minutes later."
The feeling of love and commitment to their friendship seems mutual. During an interview, the "Tiny & Toya" star revealed that she turned down her cast in "RHOA" and asked the producers to call her friend, Kandi instead.
While the 43-year-old have proven that being a true friend means helping in a time of need, she stops at nothing to either hang out or make some joke of her pal!
Please fill in your e-mail so we can share with you our top stories!