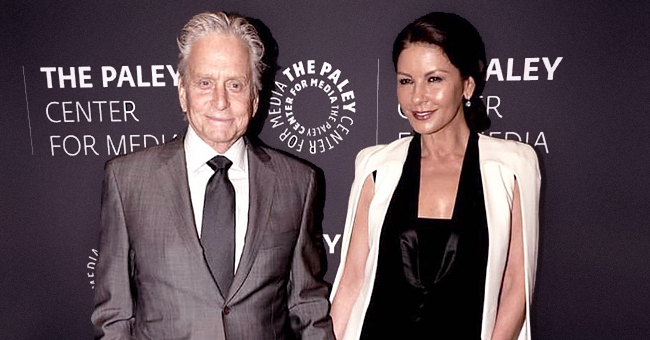 instagram.com/michaelkirkdouglas
'Kominsky Method's Michael Douglas Poses with Catherine Zeta-Jones at the Paley Honors Luncheon
Michael Douglas and Catherine Zeta-Jones stepped out together for a special outing on September 12. With no care for the flashing cameras, the couple made an affectionate pose on the red carpet.
Michael Douglas, widely recognized for his numerous works in the movie industry, took to social media to flaunt his stunning wife. Although not a day old yet, the picture has gained attention online as it features the award-winning actor posing side by side with Catherine.
In the photo, Michael and Catherine are smiling so beautifully while dressed in classy outfits that spelled out high-end elegance. The occasion was a special luncheon, and it had Michael all suited up in a dark grey suit made of fabric which seemed to glisten under the camera flash.
He paired the suit with a white shirt, black tie and a matching black pair of shoes. Despite being well past his prime, Michael still managed to have his distinguished signature look as he stood smiling directly at the camera.
Right by his side was his gorgeous actress wife, who was equally outfitted in a chic ensemble. The famous "Ocean's Twelve" star wore a black jumpsuit designed with elaborate sleeves that are long and cut open with notable slits.
Catherine paired the outfit with a pair of black stilettos, small silver earrings and with her hair styled into a sleek updo. She made an affectionate pose on the red carpet as she boldly held on to her husband of nearly two decades.
The event took place on Thursday and there, Michael was honored at the Paley Center for American Media. In his caption, the 74-year-old star expressed appreciation for the event writing:
"Thank you, @PaleyCenter for this prestigious honour. Catherine and I had a wonderful time at today's luncheon! #PaleyCenter."
The most noticeable thing about the picture, however, is how happy the famous couple, who first met in 1998 at the Deauville Film Festival, look.
That mainly seems to delight fans considering how popular the picture has quickly become. With over 16,000 likes and over 200 comments, netizens showed approval for the beautiful snap.
Many took to the comments section to laud Michael with some even expressing longing to watch him act again. A significant number, however, found the couple a gorgeous pairing and commented as such.
Michael and Catherine are admittedly one of Hollywood's most famous couples. The parents of two seem to have everything about their marriage figured out with Michael explaining that the two crucial things that are key to their peaceful union.
The "Romancing The Stone" star explained he had learned two things from his long-lasting marriage. One is that when fighting with a spouse or significant other, it is crucial to keep it civil.
Second is that talking is the key to any successful relationship. When a couple can talk instead of yell and scream, he fondly explained that it could change the dynamic of a marriage.
Well, that apparently works. In other news, the couple, who share the same birthday, have disclosed their intention to keep all things birthday very "quiet."
Please fill in your e-mail so we can share with you our top stories!