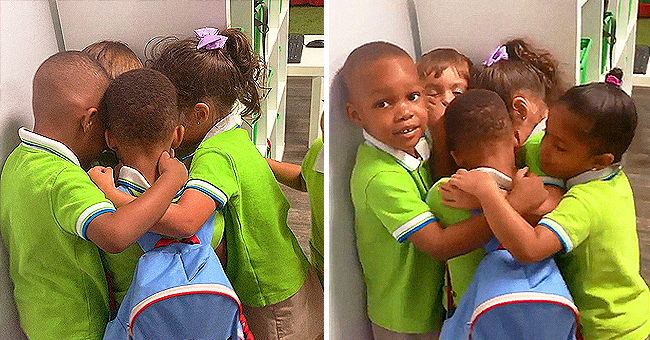 Instagram/honeyinashell
Florida Preschooler Receives Warmest Welcome from Classmates after Surviving Hurricane Dorian

Makai Simmons, a three-year-old boy from Florida, got the warmest welcome ever from his classmates after surviving Hurricane Dorian in Freeport, Bahamas.
The boy and his 22-year-old mother, Tekara Capron, went to the Bahamas over Labor Day Weekend to visit Tekara's family. At that point, they thought they were avoiding the hurricane as Dorian was supposed to hit Florida.
Unfortunately, when the pair got to the Bahamas, Dorian was on track to the island as a Category 5 hurricane. Leaving was not an option. First, it was too difficult logistically; and second, Tekara wanted to stay with her family through the storm.
"The love he received from his friends as soon as he walked into class was so touching."
Surviving the hurricane
Fortunately, no member of their family became one of the at least 50 deadly victims that the 183-mph storm left behind. However, the house they were staying at got severely damaged.
The whole family was at Tekara's grandparents' house in Freeport. At some point, the front door flew open, which made Makai ask his mother if a monster was doing it because he thought that Dorian was a monster.
Even though the house withstood the devastating storm, it was flooded, and most of the things in it got lost, including their clothes and Makai's toys.
As soon as the boy learned that some people and children were trapped due to the "monster" Dorian, he put on a Spiderman costume that survived the flooding and offered to help.
Heading back to the US
Thankfully, after being stuck in the Bahamas for a week and waiting in line for 13 hours, Tekara and Makai board a cruise ship that took them back to the US.
Once in Palm Beach, people greeted them with water, food, clothing, and free rides. The proud mother admitted that the love they got on American soil "was unbelievable."
Getting a warm welcome
After the trauma Makai went through, what he needed the most was love, and that was precisely what his classmates gave him when he got back to school.
In a video that Tekara uploaded to Instagram, the boy appeared in the middle of a cute group hug while wearing his school outfit and still holding his backpack.
His classmates wouldn't let him go and, since Makai couldn't hold back his tears, one of them tried to wipe them off.
For the caption, Tekara wrote:
"My heart. Today was my son's first day back to school in the USA after experiencing Hurricane Dorian in Freeport. The love he received from his friends as soon as he walked into class was so touching."
The damage that Dorian caused in the Bahamas was devastating. As a result, different celebrities have donated money to help as much as possible. One of them is NBA legend Michael Jordan.
He gave away $1 million to help victims in the island as they "work to recover from the catastrophic storm."
Please fill in your e-mail so we can share with you our top stories!