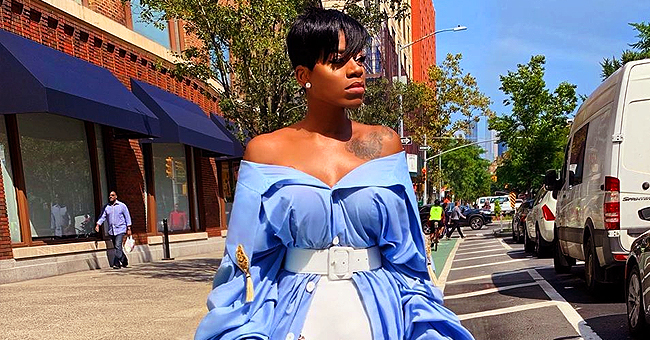 Instagram/tasiasword
Singer Fantasia Flaunts Curves in Pants, Off-Shoulder Belted Dress & Perspex Heels in New Photos

Fantasia Barrino, the singer who became famous after winning the third season of "American Idol," shared photos on Instagram showing her beautiful physique in an off-shoulder outfit.
In the first photo, Fantasia appears posing alone wearing tight, white pants and an off-shoulder, pale blue belted dress. For the caption, the singer wrote: "taking a bite of the big apple."
The second post portrayed her wearing the same outfit posing next to singer Kash Doll. "Ran into this Beauty," wrote Fantasia in the caption.
Her weight-loss journey
Both pictures prove that the "American Idol" winner looks gorgeous and that she is not shy when it comes to wearing unusual pieces of clothing. Apart from that, it became evident that her diet and exercise are paying off.
In 2016, Fantasia dropped 20 pounds through working out regularly and having a low-calorie diet.
The owner of the medspa whose weight-loss program Fantasia adopted, Rachel Roff, told People that the singer's program consisted of eating between 1,200 and 1,400 calories a day based on protein and low carbs food.
Fantasia's only allowed drink was water, and she was supposed to have some food at least three hours apart from each other to keep her metabolism active.
She is a "fitness junkie"
Rachel pointed out that the singer was a "fitness junkie," who "loves hot yoga and has a trainer that she works out with on a regular basis that incorporates cardio and strength training."
It was not the first time that Fantasia made headlines for losing weight, though. In 2013, she shed 50 pounds. About her journey, the singer told Essence that an unhealthy family pattern fueled her fitness commitment.
After admitting that some of her cousins who were her age at the point were taking high blood pressure pills, Fantasia said that she "wanted to be the person in my family to stand up" and start eating better.
Nowadays, the singer is 35 years old and is looking better than ever!
Please fill in your e-mail so we can share with you our top stories!