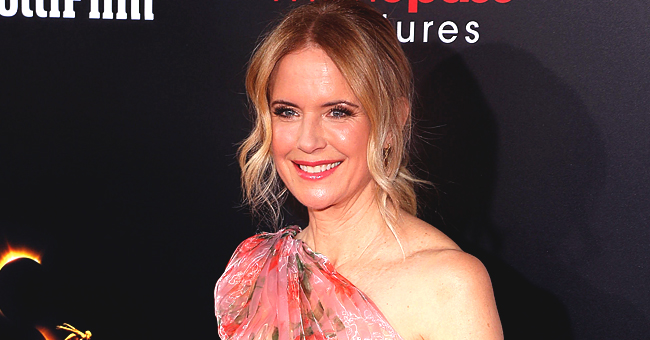 Getty Images
John Travolta's Wife Kelly Preston Shares Mother-Daughter Moment with Ella Bleu in Throwback Photo

Former model Kelly Preston took to social media recently to share a throwback picture of herself with her daughter Ella Bleu, who is stepping into the spotlight.
Preston, who got married to actor John Travolta in 1991, simply captioned the Instagram post, "baby love."
"It helped so much having my dad there. It was so comforting and he's the best mentor ever."
Born in 2000, Ella is her parents' middle child. She had an older brother, Jett Travolta, who passed away in 2009 at 16 years old. Her younger brother, Benjamin, was born in 2010.
Ella is the upcoming star in the Travolta-Preston family. In an interview with PEOPLE, the young actress said:
"Since I was very little, I've loved performing, singing, dancing and putting on shows at home for my family and friends."
In 2009, she had a small role in the movie "Old Dogs," and recently, she starred with her father Travolta in the film "The Poison Rose."
According to Ella, she turned to her father for acting guidance on set. She said:
"It helped so much having my dad there. It was so comforting and he's the best mentor ever."
Her mother Preston has also been a go-to for acting wisdom as well as life lessons throughout the years.
"When I have any questions, my mom and dad have the best advice, and that's amazing… I love that it's sort of the family business!" she said.
Ella joined Instagram in May 2019, sharing a video greeting as her first post. As of this writing, she already amassed over 82,000 followers.
In June 2019, Ella shared throwback photos of herself with her dad.
"Dad, you are my role model, you have taught me so much and I know I can always go to you for advice on anything and everything and you'll have the perfect answer," she wrote.
"Thank you for your constant and unconditional love and support always, thank you for the laughs, the adventures and the beautiful opportunities, thank you for your incredible patience and kindness to everyone," she added.
Ella's parents, Travolta and Preston, met at a screen test for their 1989 comedy, "The Experts," as reported by PEOPLE.
Recently, the couple marked 28 years of marriage by showing off their love for each other on Instagram.
Alongside a photograph of the couple smiling as Preston holds his arm, Travolta wrote:
"Happy Anniversary to my wonderful wife."
Meanwhile, Preston also took to Instagram to describe exactly how much her husband means to her.
"To my dearest Johnny, the most wonderful man I know," she wrote.
Preston added, "You have given me hope when I have felt lost, loved me patiently and unconditionally… made me laugh harder than any other human being possible... shared the most beautiful highs and at times lows."
Please fill in your e-mail so we can share with you our top stories!