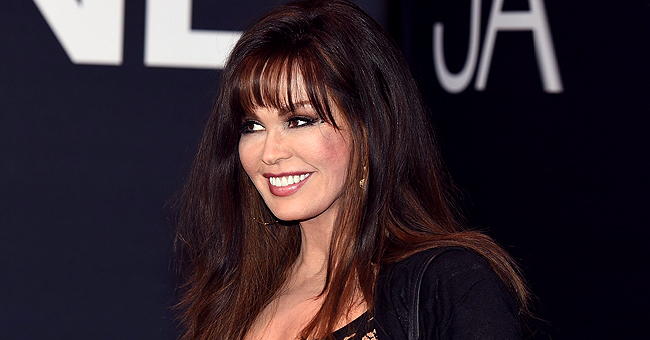 Getty Images
New 'Talk' Co-Host Marie Osmond Shares Cute Photo with NY Policemen and Fans Are Excited
Marie Osmond brightened up her fans' day with a cute photo of herself and New York Policemen, and fans are loving it!
In just a week of joining CBS' "The Talk" as a co-host, Marie Osmond is already giving fans something to smile about.
Yesterday, the singer took to Facebook to share a sweet photo of herself and men of the New York Police department.
The new co-host was looking fly in a black long-sleeved top paired with a leopard-print skirt and leather boots as she stood surrounded by five men from the police force.
"Look who I ran into… So appreciate all their hard work and dedication! And they're cute. #MyTypeOfGuys #NYPD."
In no time, the post was flooded with lovely comments from excited fans.
"Love this photo of you with our #NYPD! New York's Finest in Blue. You looked beautiful today on CBS This Morning. Can't wait to see you next week in Vegas."
"God bless our law enforcement. You all look great! I'm sure they were excited to see you, Marie."
"Awesome! I'm pretty sure they thought you were kind of cute yourself!"
Marie, who was famous for being part of the singing duo "Donnie & Marie" split from her brother to walk a new path of daytime show.
She also explained that her lack of a sister in real life helped her enjoy being a part of the show, saying:
"I don't have a sister, and this is kind of like the closest thing. So, to have all these female opinions, I'm like this is a smart table. It's just a different thing; I grew up with men."
When asked about the intimate information about her life that she disclosed on the show in her very first week as a co-host, Marie explained that she felt comfortable letting all the truth out because she believes it comes with the job.
In her first week as co-host, Marie talked about the shame she faced when she went back to work a week after her son committed suicide, as revealed by Entertainment Tonight.
She explained that she made the hard decision to continue work as a way of encouraging her other kids to press on. Unfortunately, society didn't see it that way.
Marie is making a significant impact in her first week, and we can't wait to see what she has in store.
Please fill in your e-mail so we can share with you our top stories!