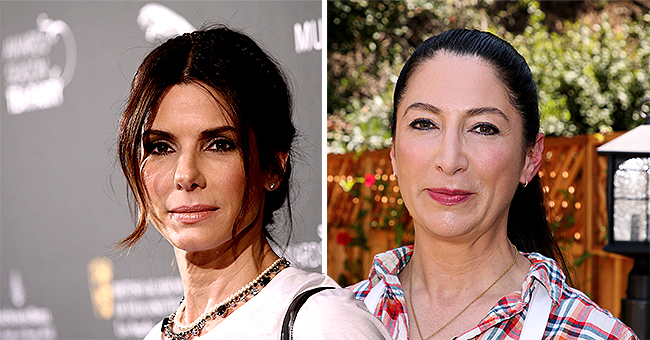 Getty Images
'Bird Box' Star Sandra Bullock's Sister Gesine Pays Tribute to Their Parents 1 Year after Dad Died

Superstar Sandra Bullock's sister, Gesine Bullock-Prado, paid tributes to their late parents after the death of their father, who passed away in 2018 at the age of 93. She took to her Instagram page to pen an emotional message to her late parents.
It can be recalled that the 54-year-old baker announced the death of their father, John Wilson Bullock in an Instagram post.
She described him as an adorable scamp, handsome devil and a trickster to the end. The late John Bullock was a World War II veteran, a father of four, a bronze star medalist and a grandfather.
In her one-year tribute, she shared a picture of their late parents on her Instagram. Her late father is seen dressed in a white suit and transparent eyeglasses to match while maintaining his smile as he posed for the photo.
While his wife was dressed in a black suit with inner white clothing.
Despite the two sisters' celebrity status, they've stayed glued to each other because they grew up being intimate and well-groomed.
To her, the family is everything, and she does her best to keep in contact. In an interview with The Guardian, Bullock-Prado said:
"We were raised in such an unusual way that we were taught to be relatively private people. I have friends, and we're close. But when you are very private, the family becomes more and more important. They are the only ones that you want to share certain things with."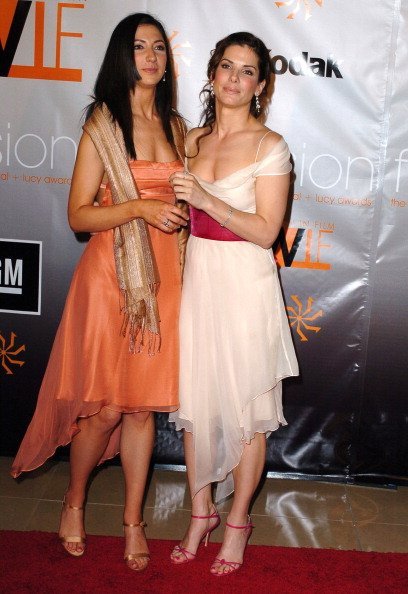 Gesine Prado and Sandra Bullock during 2005 Women In Film Crystal + Lucy Awards | Photo: Getty Images
As a result of the excellent relationship between the two beloved sisters, Gesine used to be the president of Sandra's production company, Fortis Films, which was founded in the mid-1990s.
Despite the glitz and glamour that came with the position at Fortis Films, Gesine was not satisfied. She wanted to do something different; this prompted her to quit the production company in the year 2005 and move on to Vermont. She set up a bakery there and prepared herself for the next step in her career as a baker.
Her baking career has made her feel more accomplished as she has appeared on many TV shows, such as "The Today Show" doing what she does best, baking. Her source of inspiration and role model is said to be her late mother, Helga. The happily married baker described her late mother as her "favorite" baker of all time.
Apart from being a baker, Gesine is also a writer who has a few books to her credit. Her first book, a memoir of her, titled "My Life From Scratch: A Sweet Journey of Starting Over, One Cake at a Time" was published in 2010. She doesn't spend all her time in the kitchen as she is also into blogging.
The multitalented woman is married to Raymond Prado, who is a storyboard artist that has worked on numerous significant projects like "The Hunger Games," "Stranger Things," and "X-Men."
He continues to work from rural Vermont, where he grew up, on Hollywood productions.
Please fill in your e-mail so we can share with you our top stories!