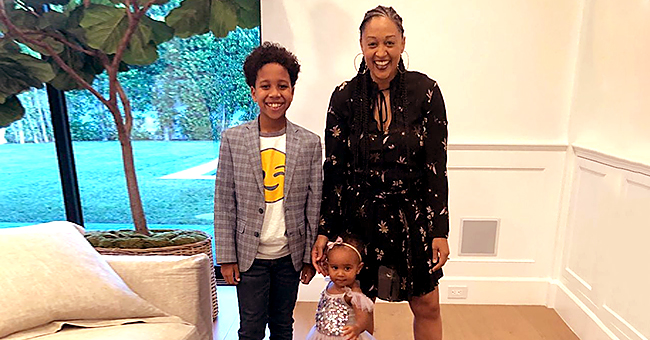 Instagram/tiamowry
Netflix's 'Family Reunion' Star Tia Mowry Shares Precious Pic of Son Cree Reading to Sister Cairo

Beautiful American actress Tia Dashon Mowry-Hardrict has shared an adorable photo of her son, Creed, reading a book to his cute baby sister, Cairo. The image showed how precious the bond between the siblings really is.
The actress posted the adorable image on Tuesday, and it shows little Cairo relaxed in the arms of her brother. The toddler seems comfortable as she focused on the storybook opened in front of her by big brother, Cree.
As if that wasn't cute enough, Cree's tender love towards his sister made the image a lovely and memorable one. The 8-year-old leaned in towards Cairo and gave her a peck on her head. The 40-year-old actress and mother of two captioned the image, "My heart" with a heart emoji.
Tia's love for her kids knows no bounds, and she uses every opportunity she gets to gush about her experience and joy being a mother to 14-months-old Cairo-Tiahna and 8-year-old Cree.
In respect to motherhood, the screen goddess once told fans on her Instagram page about bringing an end to breastfeeding little Cairo, a process she said went surprisingly well.
Tia revealed on the Netflix show, "Pump and Dump" that she had wished to continue with the process with the then 13 months old baby, but it seemed the latter wanted it to stop.
The mother of two described the situation as her first lesson in womanhood, knowing that Cairo also has feelings and she had to let her decide when to put an end to breastfeeding.
Giving credit to her husband, Cory Hardrict, Mowry describes him as caring and helping when it comes to looking after their children. In a recent interview with PEOPLE, Tia opens up about her view on how working mothers get treated differently from their counterpart male.
"I don't feel like men get asked that question about how do you balance life. I feel like society just puts these standards on women that we have to do everything. We have to cook, we have to clean, we have to be a mom," she said.
She bares it all expressing dissatisfaction with how much expectations are put on women. Mowry further shared her views on one of her most non-traditional parenting decisions by revealing that her family shares the same bed.
"My 1-year-old, ever since she was born, she was always in our bed," she said. "My son was in our bed until he was 4. My husband's fine with it. If he were not fine with it, maybe we would (not)... but he is so cool with it."
It is undeniable that the "Sister Sister" actress thus has a beautiful family!
Please fill in your e-mail so we can share with you our top stories!