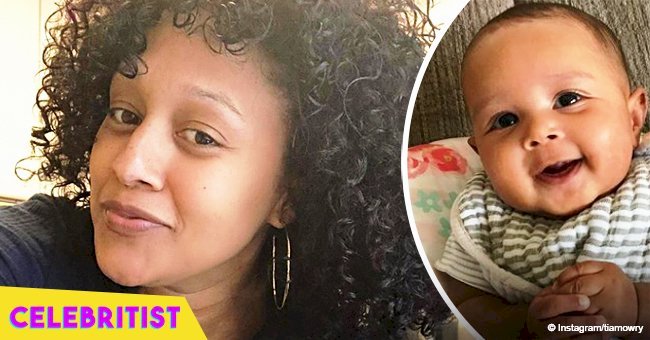 Tia Mowry's daughter melts hearts with her chubby cheeks & cute white hat in pic

"Sister, Sister" star Tia Mowry-Hardrict, who recently made headlines with her candid opinion of public breastfeeding, took to Instagram to share a photo of her daughter looking all shades of cute.
Cairo Tiahna Hardrict was pictured in a car seat, wearing a cute white hat and melting the hardest of hearts with her chubby cheeks.
Mowry-Hardrict, apparently amused by her daughter's face, asked followers to take a shot at the best caption for the image.
Last month, in celebration of National Breastfeeding Month, the actress opened up about her feelings on the topic. Breastfeeding in public had just become legal in all 50 states of the U.S, and Mowry-Hardrict thought it was a welcome development.
MOWRY-HARDRICT'S VERDICT ON PUBLIC BREASTFEEDING
The mother-of-two, however, confessed that she's not a fan of breastfeeding her baby in public spaces. "I'm still a little [hesitant and] I tend to do bottles out in public more than I do breastfeeding," Mowry-Hardrict said, adding that:
"Now, of course, if she doesn't want the bottle and she wants to take the boob, there have been several times when I've covered myself up and I'll go ahead and breastfeed in public."
THE REASON
Mowry-Hardrict explained that her stand was informed by previous experiences as a celebrity and went ahead to provide an analogy.
"I remember I went to a spa and this woman walked up to me and she's like, 'Hey, aren't you the girl from Sister, Sister?' I'm like, 'Oh, my gosh!' I'm fully naked, and again I'm like, 'This is unbearable!' I don't know, people would see me just breastfeeding out in public and go, 'That's the girl from Sister, Sister, and guess what, I saw her boob!'"
THE CONCLUSION
While Mowry-Hardrict is not a fan of the act, she agrees that all women are different and suggests every woman do whatever makes her comfortable. The "Tia Mowry at Home" host also pointed out that what matters at the end of the day are the babies.
"I think the key is for us to not judge whether that's breast milk, whether that's formula, whether that's boob, whether that's no boob, whether that's bottle feeding. Let's all just relax and embrace each other and focus on our babies just being healthy and happy,"
She finished.
Mowry-Hardrict, 40, welcomed her daughter with husband Cory Hardrict on May 5. The doting mom who battled infertility issues before conceiving Cairo, took to Instagram two weeks later to share her post-baby body and promote body positivity for new mothers.
"I wanted to shine a light on how our society creates false expectations after a woman gives birth," she wrote, alongside a photo of her bulging stomach.
Before Cairo's arrival in May, Mowry-Hardrict made sure to put everything in place, such as a minimalist nursery she showed ahead to fans in an adorable video.
Mowry-Hardrict and her husband are also parents to seven-year-old Cree Taylor Hardrict.
Please fill in your e-mail so we can share with you our top stories!