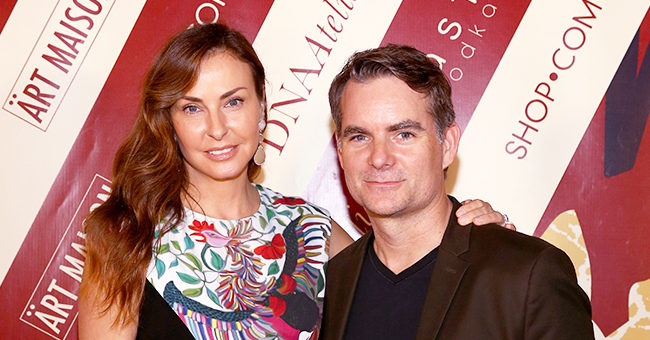 Getty Images
Former NASCAR Driver Jeff Gordon's Son Leo Is 9 and Ready to Follow in His Dad's Footsteps
Leo Gordon, son of the NASCAR superstar Jeff Gordon, is ready to follow his father's footsteps. He got certified by the Carolina Quarter Midget Association.
Jeff Gordon, being the proud father that he is, took to Instagram to share the first laps of his youngest son on the CQMA Speedway.
The excited youngster made a few confident laps around the speedway and later on admitted that he did not want it to be over, and he just turned nine this August.
GORDON FAMILY'S RACING HISTORY
Jeff is not the only young racer in the family, though. His elder sister Ella Sofia also jumped into a quarter midget at the young age of seven.
Their father, 93 times Monster Energy NASCAR Cup Series victor Jeff Gordon, started competitive auto racing at just five years of age. His popularity in NASCAR is said to have brought the auto racing sport into the mainstream.
GORDON FAMILY'S CANDID MOMENTS
The NASCAR superstar has had a very lively and happy family life filled with colorful moments and smiles. In the Hall of Fame induction, the support of his family is evident.
The young son of the NASCAR racer was quite literally jumping with excitement at the opportunity to be there for his father. "I love it! I'm really excited," said young Leo in the video.
The youngster is evidently proud of his father's legacy in the sport, and rightfully so. The NASCAR legend was racecar driver for well over two whole decades and now even inducted in the NASCAR Hall of Fame.
GORDAN'S BEHIND THE SCENES
Gordon shares a series of pictures of himself and his family on social media. The racer posted sweet photos of him fishing with young Leo on the coast for Leo's birthday back in August.
Although, the kids take after both their parents, little Leo takes leans more towards Jeff. The striking resemblance is hard to miss in the snaps from Jeff's social media and not just on the track.
The possibility of Lep following his father's footsteps to becoming a pro-racer is more than likely from the enthusiasm the young Gordon shows.
The legacy of many such personalities will carry on with their children as they follow their footsteps and shoot for the stars. Kid Rock, the American Singer's son, Robert James, also took after his dad and is rocking the stage all on his own.
Please fill in your e-mail so we can share with you our top stories!