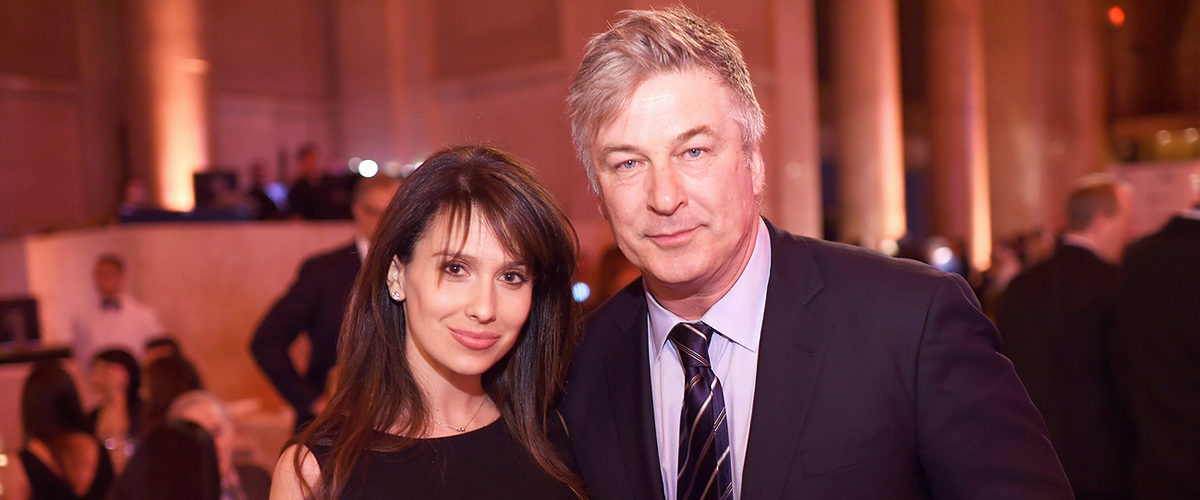 Getty Images
Inside the Lovestory of Alec Baldwin and His 26-Year-Younger Wife Hilaria

Actor and comedian Alec Baldwin, best known for "30 Rock" and his participation on "Saturday Night Live," is expecting his fifth child with wife Hilaria Baldwin.
Born in April 1958, Alec is an actor with a lot of experience in the entertainment industry as he has been taking acting gigs since 1980 when he portrayed Billy Allison Aldrich on the soap opera "The Doctors."
Hilaria and Alec didn't kiss each other for six weeks.
Alec Baldwin's career
In 2003, Alec got the role that skyrocketed his acting career. He portrayed Sheldon Kaplow on "The Cooler," which earned him nominations to an Oscar, a Golden Globe, a SAGA, and many more awards.
Thanks to the TV show "30 Rock," he earned a spot in TV history. During the period he worked on the show, he won Golden Globes, Emmys, and SAGAs.
Alec's first wife, Kim Basinger
As per his romantic life, he has had two wives so far: Kim Basinger and Hilaria Thomas.
Kim and Alec Baldwin met each other in the set of the 1991 film "The Marrying Man." The former couple tied the knot in 1993 and, two years later, they welcomed a daughter, Ireland, to the world.
Unfortunately, they got divorced in 2002, and according to his 2008 book "A Promise to Ourselves: A Journey Through Fatherhood and Divorce," Kim did everything she could to deny him access to Ireland.
In the book, he pointed out that she refused to discuss parenting, didn't provide telephone access, didn't follow court orders, and so on, labeling her conduct as "parental alienation syndrome."
His relationship with Hilaria Thomas
After all that painful process, most people thought that he would not get romantically involved with another woman again, let alone getting married or having children.
However, in 2011, he surprised everyone by dating yoga instructor Hilaria Thomas. One of the aspects that shocked people the most was the 26-year gap – Hilaria is 35 and Alec 61.
As Alec shared on Instagram, the pair met each other by chance in February 2011 at the restaurant Pure Food and Wine in Manhattan. He was at a table with a friend and saw her standing near the door with a group of friends, as well.
The actor walked up to her, took her hand and said, "I must know you," and gave her his card. Even though they started going out together, Hilaria wasn't sure if Alec wanted to get romantically involved.
Taking it slow
Talking to Mariska Hargitay, Hilaria admitted that they didn't kiss each other for six weeks as he would take her to "the most romantic dinner date" and then drop her off at her place and shake her hand.
Even her friends started thinking that he just wanted to be her friend. The truth was completely different, though, as they got married in June 2012, about a year after they met each other for the first time, at the Basilica of St. Patrick's Old Cathedral in NYC.
Moving fast
While the beginning of their relationship developed slowly, they took the fast lane after trying the knot. The couple's first child, Carmen, was born on August 23, 2013.
Almost two years later, on June 17, 2015, they welcomed their first son, Rafael, to the world. On September 12, 2016, Hilaria gave birth to Leonardo. Finally, on May 17, 2018, Romeo, their fourth child, was born.
Having a fifth child
Even though having four children is no easy task, the couple always wanted to have a fifth one. During an interview that the "SNL" star had with Kevin Nealon, he confessed that Hilaria wanted another kind and that they were "having a fifth baby."
At that point, the actor didn't know if Hilaria was pregnant, though. On September 18, Hilaria announced that she was expecting a baby!
She shared the news on Instagram, saying that she was very happy and that the couple didn't want to hide the pregnancy.
Finally, she asked the media not to send paparazzi to take photos of her because she needed to be relaxed, and "getting chased" by cameras is certainly not peaceful.
Please fill in your e-mail so we can share with you our top stories!