Eddie Murphy Is a Father of Ten Children from Five Different Women – Meet Them All
The famous comedy actor achieved fame in the 80s when he played the talkative Alex Foley in the franchise "Beverly Hills Cop." This role led him to star in many successful Hollywood movies and to be a renowned world-famous comedian.
Eddie Murphy recently turned 60, and back in November 2018, he welcomed his 10th child into the family. The actor and his girlfriend, the Australian model Paige Butcher have been together since 2012.
A few months before their baby boy, Max Charles, was born, the couple officially announced their engagement. Then, in the Christmas of 2018, their baby boy was introduced to the rest of their family. But before he met Paige, Eddie Murphy's life was a bit complicated.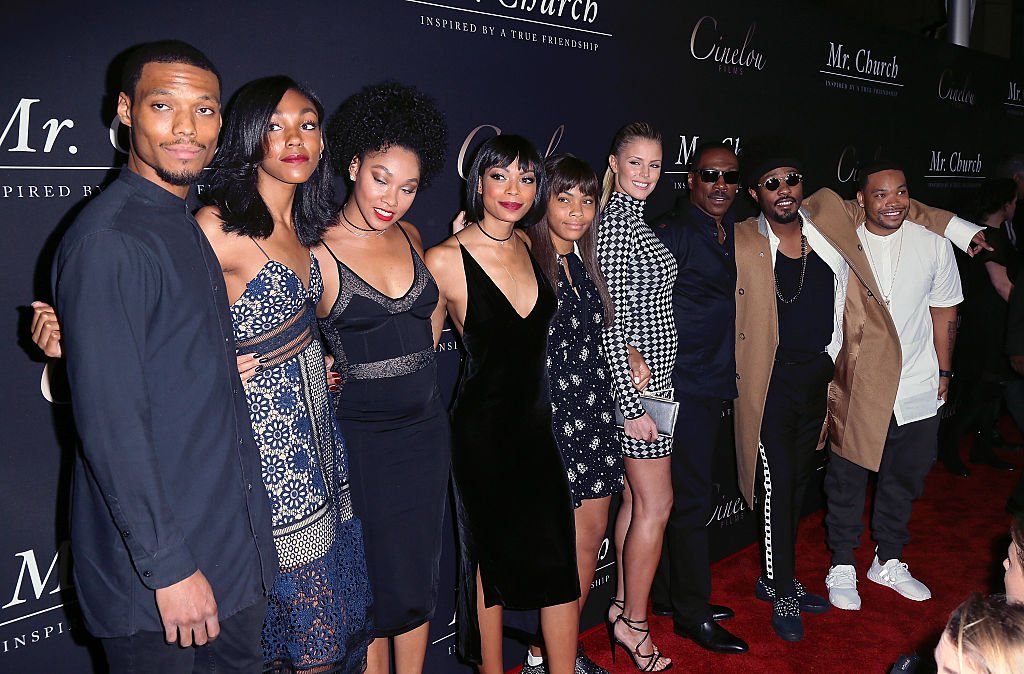 EDDIE MURPHY AND FATHERHOOD
Eddie Murphy had his first child, Eric, with his then-girlfriend, Paulette McNeely. He has five other children (Bria, Myles, Shayne, Zola, and Bella) with his ex-wife Nicole Mitchell.
He also has a son, Christian, with ex-girlfriend Tamara Capuche and a daughter Angel with Melanie Brown (former Spice Girl). At the same time, his current fiancée is the mother of Izzy and Max Murphy.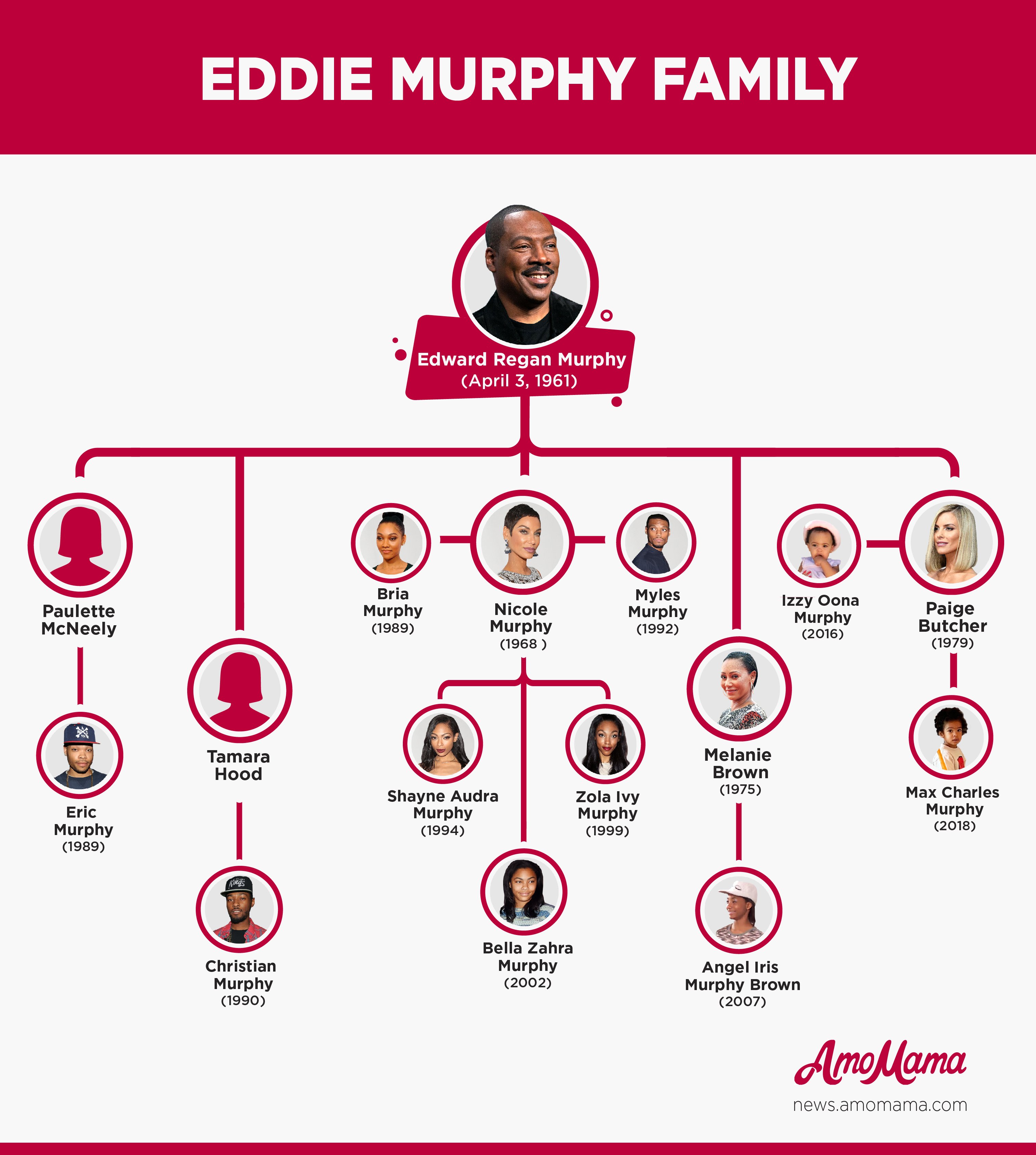 In March 2021, the actor, who is also a grandfather, revealed that he loves fatherhood. On Marc Macron's "WTF" Podcast, he said: 
"I am going to be 60 in April, and I have all these babies. I love fatherhood."
He went on to reveal that he is blessed with the kind of kids he has. "I am so blessed with my kids. I don't have one bad seed," he said. "I don't have any like 'Oh, you are the one.' I don't have any of that. My kids are so great, normal people — and nobody is like the Hollywood jerk kid."
ERIC MURPHY
Eddie's firstborn is Eric Murphy. He was born in 1989 to the actor and his then-girlfriend Paulette McNeely. There are no photographs of his mother, and little is known about her. And Eric, like his mother, also led a discreet life.
However, in mid-2021, the writer and voice actor came into the limelight as he started dating Jasmin, Martin Lawrence's daughter. In an Instagram post shared by Jasmin, she wished Eric a Happy Birthday on July 11.
In the caption, she said: "Happy birthday, my love! I'm so incredibly blessed to know you, to love you, and to have you by my side. Cheers to many more blessings, laughs, and beautiful memories! I love you so much!!" This was after Eric had posted a photo of them mentioning how he was head over heels.
 BRIA MURPHY
Just four months after welcoming Eric, Eddie welcomed his daughter Bria with his wife Nicole Mitchell Murphy on November 18, 1989.
Just like her dad, Bria is also an actress who has appeared in a few films such as "The Perfect Match," "Baby Daddy," and in the series "Conflict of Interest."
Murphy's daughter is also co-founder of ArtUs, an art gallery. Her father is very proud of her and her artistic talent and has supported her in this facet.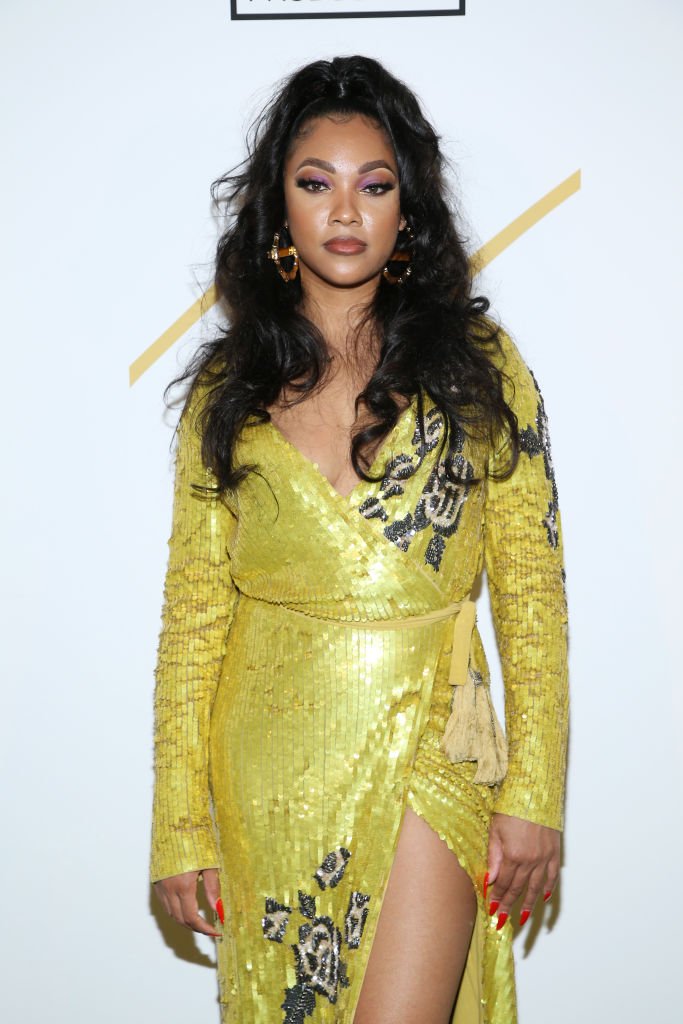 CHRISTIAN MURPHY
As a result of his relationship with Tamara Hood Johnson, Eddie had his son Christian born in 1990. And by the looks of things, the three mothers were pregnant almost at the same time. Some sources report that Eric and Chris are very close today.
Though he's the son of one of Hollywood's most famous actors and comedians, he has lived the majority of his life out of the spotlight. He is occasionally seen supporting his dad at red carpet events.
MILES MITCHELL MURPHY
After getting back together with Nicole, Eddie expanded his family with the birth of Miles on November 7, 1992, before the couple finally tied the knot one year later.
Miles is the reason why Eddie Murphy is a grandfather today. He has a daughter, Evie Isla, with his girlfriend, Carly Olivia Fink. Baby Evie was born on July 2, 2019.
SHAYNE AUDRA
Shayne is Eddie's third child with Nicole, and she was born on October 10, 1994. She appeared with her mother and sister Bria on "VH1's Hollywood Exes" in 2014.
Little is known about Shayne save except that she takes to Instagram to posts tons of photos while traveling, spending time with friends, and modeling her favorite outfits.
ZOLA IVY
Nicole's fourth daughter is Zola Ivy, and she was born on December 24, 1999. Like some of her siblings, she doesn't have the acting gene.
However, she appeared with her mother and sisters Bria and Shayne in "VH1's Hollywood Exes." For the most part, you can catch Zola posting pictures of her adventures on Instagram.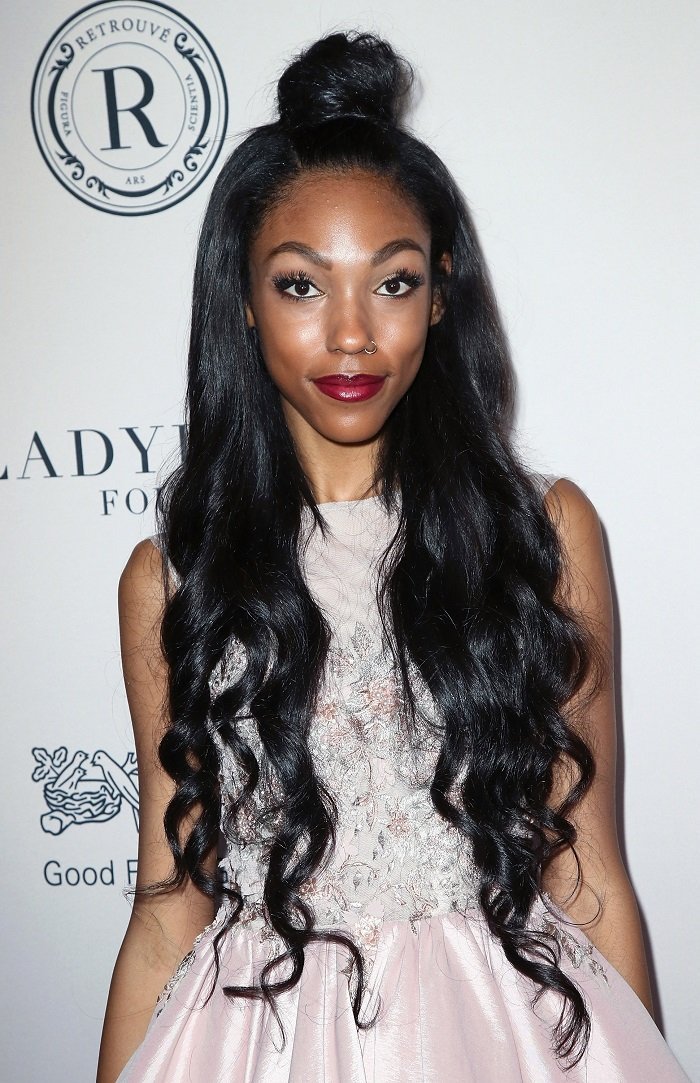 BELLA ZAHRA
Bella was born to him and Nicole on January 29, 2002. The following year, 2003, the couple filed for divorce alleging "irreconcilable differences" after 13 years of marriage.
Bella has plans to pave a career in Hollywood as she made her acting debut alongside her father in the 2021 film "Coming 2 America."
When Eddie opened up about his daughter's role, he insisted she earned the gig independently. If she hadn't delivered, she would not have gotten the role.
ANGEL IRIS
In 2007, after his divorce from Nicole, Eddie began dating Mel B, the former member of the Spice Girls. Soon after, she announced that she was pregnant and that the father was him. Although Eddie questioned his fatherhood, a DNA test confirmed that Angel is his eighth daughter.
Angel and Eddie currently spend time together, and there is no resentment between him and Mel B, who has commented that they are friends and share as a family at times.
IZZY OONA
Just when you thought Eddie Murphy was done, he became a father for the ninth time after meeting Paige Butcher. The couple started dating in 2012, and it wasn't long before they moved in together.
On May 3, 2016, Eddie and Paige had their first daughter together, and they named her Izzy Oona.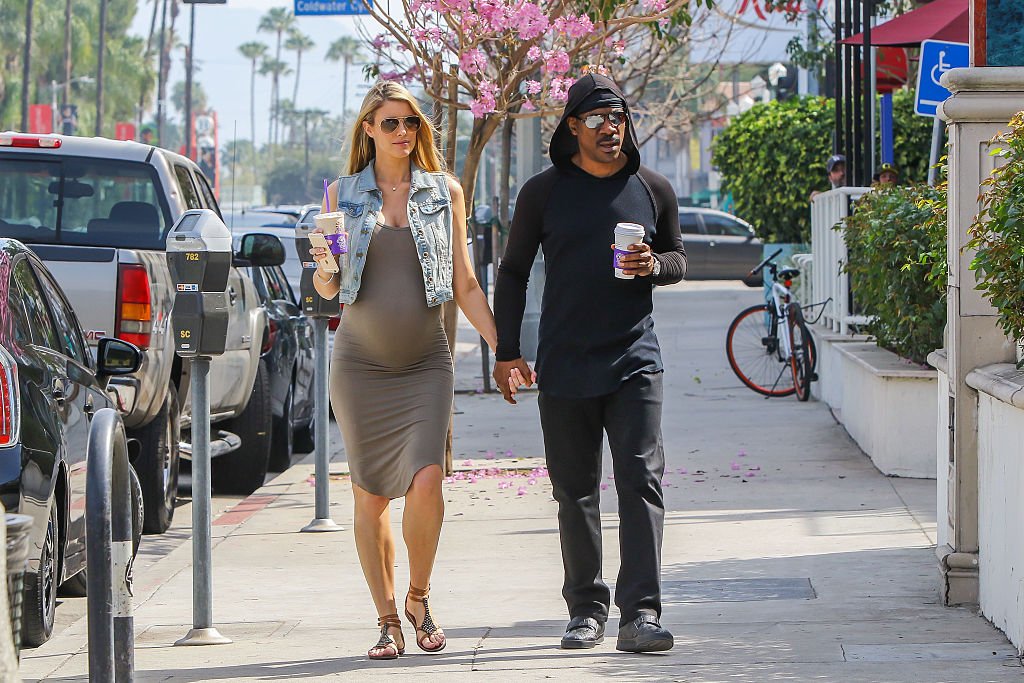 MAX CHARLES
In December 2018, Eddie and Paige became parents for the second time. This time she gave birth to their son, Max Charles. Thirty years after the birth of his first son, Eddie had his tenth son and can not be happier.
For anyone else, having these many children can be a problem. Fortunately, Eddie has accumulated a lot of wealth over the years, and he can afford to give his big family a comfortable life.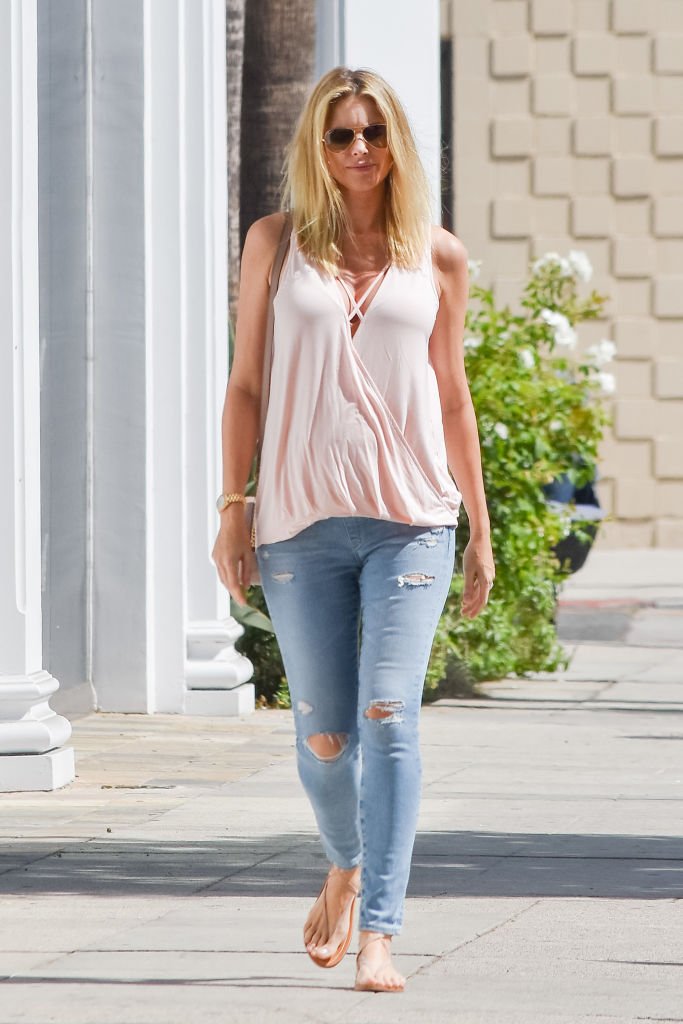 In the photographs they share on social networks, you can see that the big family shares a lot of time and that all the brothers get along, something very important, especially for the little ones.
Eddie comments about his life revolve around his family to his ten children. He has said that for him, this stage of his life is much quieter and more relaxed, sharing with his loved ones. Something that has also been reflected in his films that gave a turn from action to family classics.